(Eastern Standard Time) 05/15/2021
Note: "Other details pertaining to the show" refers to trivia, articles on cast members/crew, or other pages not described above.
How I Became a Fan of

GRIMM
I started watching Grimm very casually with a friend of mine who'd recommended it to me. In fact, the first episode I ever saw was "Happily Ever Aftermath"; yep, the crazy thing is that when I first started watching Grimm, I really just watched a few random episodes instead of starting from the beginning, a pretty unusual way to get into a show (especially for me!). With each episode I saw though, it only became more and more intriguing. Eventually, I finally did watch every episode in order from the "Pilot" right up to the season 1 finale, just in time for the premiere of season 2. Needless to say, I'd gotten hooked!
I love the mythology of the show and the creativity of all the different Wesen, and of course, the show wouldn't be nearly as good without the outstanding production and quality of the actors/characters. I think the show's consistently improved every season.
Why I Made an Account
I enjoyed checking out this wiki in the past and using it as a great resource to learn more about the show. The mid-season finale of Season 4 ("Chupacabra"), especially that mind-blowing final scene (I won't spoil it for you if you haven't seen it), is what finally prompted me to make an account and start contributing to the GRIMMWIKI.
I enjoy talking about the show with other fans and contributing to the site as well, particularly making gifs and digging up some interesting Grimm-related trivia. I've come a long way since the first full page article I contributed to the site, which was the Super Soaker CPS 2500. (Check it out!) Feel free to leave a message on my wall with any questions you may have.
Nowadays, since the show went off the air, I still find time to visit and occasionally do some editing on the wiki in my spare time, but I find I have much less of that than I used to. Sadly, as a result, there are some long-term projects I intended to complete a long time ago (such as completing the bio pages for the main characters) that will likely now go unfinished, but I am proud of everything that the fans and wiki community, myself included, were able to contribute here. I remember being told from the other admins on the site that this was, at one time, one of the most active wiki pages they'd ever seen! If you reach out to me and don't hear from me for a while, don't be discouraged -- I typically get to all my wall messages & questions eventually! If you're new to the Grimm fan club, welcome and enjoy the ride! =]
Grimmaniac

(talk)

22:50, 6/26/2015 
Update:

Grimmaniac

(talk)

15:11, 8/11/2020 


Which Wesen am I?
Interestingly, my polar opposite would be a Gelumcaedus! (90% certainty)
Top 5 Favorite Wesen
My top 5 favorite Wesen (as seen on the TV show) are:
Honorable mentions: Wildesheer, Blutbad, Manticore, Hexenbiest, Koschie, Gevatter Tod
Images and GIF Contributions
Episode Image Pages
Other Contributions
| | |
| --- | --- |
| | This user's time zone is EDT. |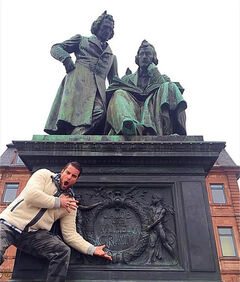 Community content is available under
CC-BY-SA
unless otherwise noted.