"The End" is the thirteenth episode of Season 6, the one hundred and twenty-third episode overall, and the series finale of Grimm. It first aired on March 31, 2017, on NBC.
Press Release
SERIES FINALE - NICK MUST LOOK TO HIS ANCESTORS FOR STRENGTH TO SAVE THE WORLD FROM A TERRIFYING END - JACQUELINE TOBONI, HANNAH R. LOYD AND WIL TRAVAL GUEST STAR - Nick (David Giuntoli) faces off against his greatest foe yet as it seems no weapon can defeat him. At the Spice Shop, Monroe (Silas Weir Mitchell), Rosalee (Bree Turner) and Eve (Bitsie Tulloch) search for answers and stumble upon a rare potion that may help the fight. Elsewhere, Capt. Renard (Sasha Roiz) and Adalind (Claire Coffee) try to keep Diana (Hannah R. Loyd) and baby Kelly safe as the threat has its eyes set on the children. Russell Hornsby and Reggie Lee also star.
Synopsis
Nick wakes up after being knocked out by Zerstörer. He goes to Wu's body and puts the stick on the wound. He realizes nothing is happening so he goes to Hank's body and puts the stick on his neck. Nick gets angry when nothing happens. Trubel arrives and Nick tells her everyone was killed by Zerstörer. Nick then tells her bullets don't do anything on Zerstörer. He looks at Franco's body and Trubel tells him "We have to do this the way our ancestors did... cut off his head". Nick calls Adalind and tells her and Renard what happened at the precinct. Adalind says that Zerstörer doesn't just want Diana, but he also wants Kelly. Nick hangs up and sends Trubel to the cabin, and he goes to the spice shop.
At the spice shop, Rosalee, Eve and Monroe are still looking for a way to stop Zerstörer. Rosalee suggests maybe Zerstörer is really unstoppable. Monroe finds something about Strength of one's blood. Rosalee says she knows a potion known as Force du Sang. She informs Monroe and Eve that it is almost impossible to make, since it requires the blood of a Grimm, an Hexenbiest and a Wesen all at the same time. Monroe, looking at a Zerstörer drawing, says "Dude, we are taking you down".
Monroe, Rosalee and Eve are preparing the potion as Nick arrives. They tell Nick about the potion, but they notice something is wrong and he tells them what happened at the precinct. They all tear up and Nick tells them he sent Trubel to the cabin. Rosalee goes to continue preparing the potion and Nick says "This better work, cause I don't know how I'm gonna get close enough to him to cut his head off."
Nick grabs a Labrys in the chest in the basement.
At the cabin, Renard tells Adalind they both have made alot of mistakes and Adalind agrees. He tells her they have made at least one thing right, and Adalind guesses Diana. She wonders if she's going to need to keep the ring Bonaparte put on her finger. She tells Renard she doesn't want to take this risk. Renard says he will do everything he can to proctect Diana and Kelly. Adalind says she knows he will as Trubel arrives in Nick's car. Trubel enters the cabin and confronts Renard about the night he killed Meisner. Trubel then goes outside to guard the cabin.
Rosalee, Monroe, Eve and Nick finish preparing the potion, leaving only the three bloods left to add. Eve asks how they're going to put it on Zerstörer and Monroe suggests dipping bullets in it like they did with the Siegbarste. Nick says he's going to get the gun and Monroe and Rosalee leave. Eve tells Nick she's sorry she can't help everyone since she isn't a Hexenbiest anymore. Nick tells her he tought she wasn't going to regret what's done anymore. Eve tells him she has no regrets and she is definitely not done. Suddenly, Zerstörer bursts through the door and Eve tells Nick he has to go since Rosalee needs his blood for the potion. Nick tries to attack Zerstörer with the Labrys, but this one quickly pushes him back. Eve comes from behind and tries to attack Zerstörer with a dagger, but he telekinetically stops her and starts making Eve pointing her chest with the dagger. After a few seconds, Zerstörer makes her stab herself and she screams at Nick to go and she pulls the dagger out. Nick grabs her and looks for Zerstörer, but he is already gone. Eve starts falling to the ground as Nick calls her Eve, then Juliette. She says she has no regrets and she dies in Nick's arms. He tries to heal her with the stick, but with no success again. He grabs the Labrys and screams "Where are you? Come back and fight! Goddamn you! Come on!" as he breaks things in the spice shop.
Guest Stars
Special Guest Stars
Wesen
Videos
Select Scene
Behind the Scenes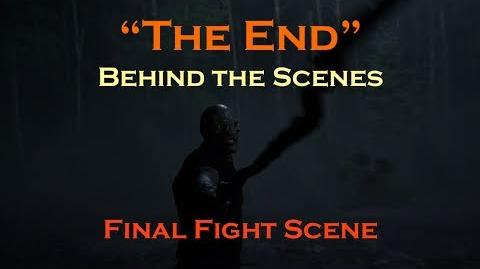 Production Notes
The episode began filming on January 4, 2017 and wrapped at 1:43 AM PT on January 25, 2017.[2]
Kate Burton (Marie Kessler and Mary Elizabeth Mastrantonio (Kelly Burkhardt) were credited as special guest stars at the end of the episode.
Originally scheduled to be available for two days of filming, Kate Burton and Marty Elizabeth Mastrantonio ended up being only available for one day due to severe weather; all their scenes were then shot in the one day they were on set, including stunts.[3][4]
The first scene shot for the episode was the final group scene towards the end of the episode.
The episode ended with a title card that read, "The End," followed by, "Thank you," and then "Thank you" in 32 different languages.

The Hebrew translation is mistakenly spelled backwards.
Continuity
Trivia
The events of this episode resulted in every main character having at least one death scene at some point in the entire series.
References