"The End" is the thirteenth episode of Season 6, the one hundred and twenty-third episode overall, and the series finale of Grimm. It first aired on March 31, 2017 on NBC.
SERIES FINALE - NICK MUST LOOK TO HIS ANCESTORS FOR STRENGTH TO SAVE THE WORLD FROM A TERRIFYING END - JACQUELINE TOBONI, HANNAH R. LOYD AND WIL TRAVAL GUEST STAR - Nick (David Giuntoli) faces off against his greatest foe yet as it seems no weapon can defeat him. At the Spice Shop, Monroe (Silas Weir Mitchell), Rosalee (Bree Turner) and Eve (Bitsie Tulloch) search for answers and stumble upon a rare potion that may help the fight. Elsewhere, Capt. Renard (Sasha Roiz) and Adalind (Claire Coffee) try to keep Diana (Hannah R. Loyd) and baby Kelly safe as the threat has its eyes set on the children. Russell Hornsby and Reggie Lee also star.
Zerstörer has killed everyone in the precinct, except for Nick, who is beaten up but alive. When Nick wakes up and sees Zerstörer is gone, he goes to Wu and tries to revive him using the stick, but it has no effect. He then goes to Hank and tries to heal him as well, but again to no avail. Trubel runs into the precinct and takes in what has happened; Nick says they need to find and kill Zerstörer, and since bullets were totally ineffective on him, Trubel says they'll have to do it "the way our ancestors did" and cut off his head.
Adalind and Renard continue to hide in the Postman's cabin (from the pilot episode), along with Diana and Kelly. Nick phones Adalind and tells her and Renard what has happened. Adalind tells Nick that, according to Diana, Zerstörer wants both Diana and Kelly. Nick gives Trubel his car keys and tells her to go to the cabin to protect Adalind, Renard, and the children while Nick goes to the spice shop to join Monroe, Rosalee, and Eve.
In the spice shop, Monroe, Rosalee, and Eve furiously search the Grimm books in hopes of discovering some way to vanquish Zerstörer. Eventually, Monroe finds a text describing killing evil via the "strength of one's blood", and Rosalee is reminded of a potion named Force du Sang which may do what they need. Force du Sang is very difficult to make; it requires blood from a Hexenbiest, another Wesen, and a Grimm, all added into the mixture simultaneously. As Rosalee prepares the Force du Sang with help from Monroe and Eve, Nick enters the shop and breaks the news to them about Zerstörer's attack at the precinct. Monroe and Rosalee head out for the cabin with the potion (which still requires the blood), leaving Nick and Eve in the shop. Just then, Zerstörer shows up in the shop and attacks Nick. Eve charges at Zerstörer with a dagger, but Zerstörer telekinetically forces her to stab herself in the abdomen, then vanishes. Nick holds Eve in his arms as she says she has "no regrets" and dies; he tries to heal her with the stick, but to no effect.
Monroe and Rosalee arrive at the cabin and tell Adalind and Renard about the Force du Sang potion. Nick arrives soon thereafter and, thinking back to when he and Monroe first came to the cabin (in the pilot episode), enters the cabin and tells everyone Eve is dead. Adalind, Rosalee, and Nick hold their hands over a pot containing the potion; Renard holds a dagger over their hands, but when he hesitates, Trubel pushes the dagger through their hands, allowing the blood of all three to drip into the pot and mix with its contents.
Diana emerges from the cellar. She knows about Zerstörer (even though all of the adults had been trying to keep it a secret from her); she tells Nick the reason Zerstörer is following them is that he senses the stick, and he wants it and has been looking for it for a very long time. The cabin starts shaking, and Zerstörer comes in; hitting the floor with his staff, he sends out a shockwave that knocks everyone over except for Diana. Zerstörer reverts to his human form and reaches out for Diana, who takes his hand, and they leave the cabin; Renard runs out after them and tries to put up an attack, but Zerstörer stabs him in the chest with his staff and kills him. As everyone else runs out of the cabin (except for Trubel, who is fetching Kelly), Monroe throws the pot full of Force du Sang in Zerstörer's face, causing him agonizing pain for a few moments — until he recovers as if nothing had happened. Zerstörer telekinetically closes the door of the cabin, trapping Trubel and Kelly inside. Adalind telekinetically grabs an axe from Zerstörer's hands, but he gets it back and uses it to kill Adalind with a blow to her chest; her last words, to Nick, beg him to "save Kelly and Diana". Rosalee picks up Zerstörer's staff (which he had dropped), but it turns into a snake and bites her on the neck, then does the same to Monroe, killing them both.
While Trubel continues to try to break out of the cabin, Zerstörer enters, along with Diana, who tells Trubel to stay away from her brother. Zerstörer recognizes Trubel as a "Dēcapitāre" (a Grimm), and his staff turns into a rope and strangles her. With only Nick and the children left alive, Zerstörer tells Nick that none of this needed to happen, and that he will restore everyone to life if only Nick will give him the stick. As proof of his ability to undo all the deaths, Zerstörer touches Trubel's body with his staff, whereupon she revives. Zerstörer acknowledges he cannot kill Nick, and apparently Zerstörer cannot take the stick from him by force; it can only be given to him freely.
Nick is inclined to give over the stick, but Trubel says that would be the end of humanity; the two of them start fighting, and Trubel takes the stick and runs into the woods. The stick starts glowing and burns Trubel's hand, forcing her to drop it. Nick continues to fight Trubel and eventually overcomes her. Picking up the stick and starting back through the forest to the cabin, he hears a female voice telling him, "You must not! You cannot betray us and what we are!" Turning around, he sees Kelly (his mother) and his aunt Marie, both of whom insist surrendering the stick will sacrifice the world to endless pain and suffering. Nick remains unconvinced, saying he wants his son and his friends back. Kelly and Marie tell Nick he has the power to defeat Zerstörer through the power of blood; Nick objects that they already tried that (the Force du Sang) and it failed, but Kelly and Marie explain they're not talking about the potion, but about the power of Nick's own blood — the power of all Grimms, passed down through his bloodline and family — and that through that power, they can defeat any evil, together.
The three of them walk back to the cabin and confront Zerstörer, who asks Nick again to give him the stick; instead of doing so, Nick drops the stick on the ground and tells Zerstörer to "come and get it". A fight ensues — Zerstörer versus Nick, Kelly, Marie, and Trubel. Trubel and Marie stab Zerstörer in the back with their daggers (Marie's having been hidden in her walking stick). Zerstörer, in pain, drops his staff, and Kelly cuts off his upper arm with her weapon. Nick picks up the staff, whereupon the stick glows green and flies from the ground into a niche in the staff's side. Turning to Zerstörer and saying "You wanted it? Here it is!", he stabs him in the chest with the now-complete staff, and as he dies, a puff of black smoke emerges from his mouth.
Nick thanks his mother and aunt for their help, and for stopping him from doing something terrible, and asks how they knew he needed them; Kelly said they "feel" it, and that Trubel had returned because she felt it too. Marie reiterated that they are all descendants of the first Grimm, and that the stick is part of a "much greater power" and must be guarded well. Kelly tells Nick to take good care of her grandson, and says he likes his name. Trubel reaches Nick and says she can't believe the two of them were able to bring Zerstörer down; Nick asks her want she means by "the two" of them, but when he turns around to acknowledge Kelly and Marie again, they have vanished.
Despite having vanquished Zerstörer, Nick again realizes that he wasn't able to do anything for his friends. He kneels at Adalind's side, removes the engagement ring which Bonaparte had put on her finger, and tosses it aside. Diana emerges from the cabin and asks Nick where the "other Grimms" (Kelly and Marie) went. Nick realizes that, with the staff, he can bring everyone else back to life, just as Zerstörer had done for Trubel, and he picks up the staff which he had thrown to the ground. Before he can do anything more, though, Trubel calls his attention to Zerstörer's body, which has turned to ashes, and then into a swirling grey cloud. The staff is drawn to the cloud, and Nick tries to hold it back, but the pull is too strong for him, and both the staff and Nick plunge into the cloud.
Back in Monroe and Rosalee's house, Nick and the staff crash through a mirror. Diana tells Adalind that "it worked; I got Nick back for you." Nick is amazed to see everyone is alive; everyone else is equally amazed to see Nick reappear from the Other Place. When Hank, Wu, and Rosalee come in the door, Nick embraces each one, and when he comments that Wu is alive, Wu replies, "Yeah, wasn't I?" No one except Nick and Diana remembers the encounter with Zerstörer; everything is back the way it was, except Diana observes that Eve has her Hexenbiest powers again, and Bonaparte's ring is no longer on Adalind's hand. Trubel says she had had a feeling something bad was going to happen…but it didn't." Diana says Zerstörer didn't come back through, and "he's dead, and I'm not afraid anymore." Monroe notices the staff and perplexedly asks Nick, "Where did this come from?"
Twenty years later, a young male narrator is writing the story in one of the Grimm diaries while sitting in a trailer in the middle of the woods. The man concludes his writing by saying, "I know it's true, because my father told me so." A young woman speaks up, calling the young man "Kelly" and telling him to get ready, because "Mom and Dad are waiting; we've got Wesen to kill; the triplets are coming too." She opens a cabinet full of antique weapons and pulls out the staff. The man signs his diary entry as "Kelly Burkhardt", and as he gets up, he takes the staff. As they leave the trailer they were working in, the woman's eyes glow purple, and she (now revealed to be Diana) telekinetically shuts the diary, which has a large "G" embossed on the front cover.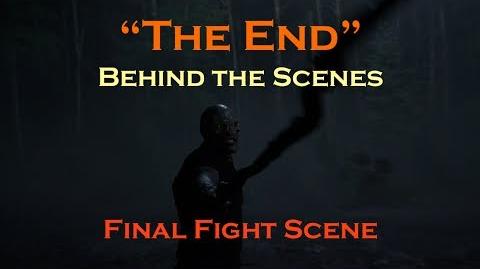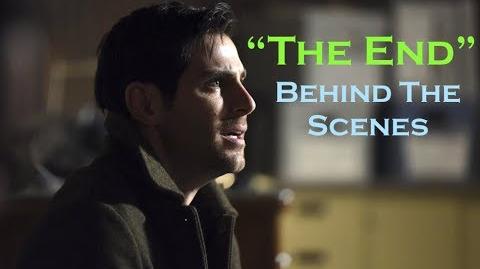 Community content is available under
CC-BY-SA
unless otherwise noted.