We're Getting Mutants in the MCU - The Loop
Play Sound
This article has been nominated for rewriting
Reason: Season summary is needed
Please remove this notice when the rewrite is completed.
Season 6 is the sixth and final season of Grimm. Grimm was renewed for a sixth season on April 5, 2016, and the season will be filmed in the Portland, Oregon area. Filming for season 6 began on August 1, 2016. NBC announced on August 29, 2016 that season 6 would be the final season and it would consist of 13 episodes as opposed to the 22 episodes of each of the first 5 seasons.
The first episode of the season, "Fugitive", aired on January 6, 2017, and the season six, and Grimm series finale, "The End", aired on March 31, 2017.
Season Notes
All episodes aired on Fridays at 8 PM after the majority of the episodes of the first five seasons aired at 9 PM on Fridays.
Season Recap
Coming at the conclusion of the season.
Cast
Crew
Writers
Directors
Wesen
New Wesen
Wesen Returning from Past Seasons
Mentioned or Appeared in Grimm Diaries only
New Wesen
Past Season Wesen
Past Season Wesen
Appeared in Monroe's family bible only
Past Season Wesen
Non-Wesen Beings
New Non-Wesen Beings
Diseases
Episode Summaries
No. in Season
No. in Series
Title
Directed by
Written by
Original air date
U.S. viewers

(millions)

1
111
"Fugitive"
Aaron Lipstadt
Jim Kouf &
David Greenwalt
January 6, 2017
4.49
Synopsis: Following the massacre in Nick's loft, Capt. Renard is hell bent on eliminating him once and for all. Hank and Wu head back to the precinct to keep an eye on the Captain and help give the gang the upper hand. Meanwhile, Monroe and Rosalee grapple with staying in Portland now that their family will be expanding. Elsewhere, Eve suffers the side effects of the mysterious stick's healing power.

---

Quote: "Maybe this world is another planet's hell."
2
112
"Trust Me Knot"
John Gray
Jim Kouf &
David Greenwalt
January 13, 2017
4.24
Synopsis: Hank and Wu find a solution to stop Renard while Nick is still on the run. Adalind receives a phone call that throws her into the middle of everything. Back at the spice shop, Monroe and Rosalee's adventure in babysitting takes an interesting turn when Diana demonstrates her power. Meanwhile, Eve and Trubel work to solve the mystery of the cloth found with the healing stick.

---

Quote: "Man is not what he thinks he is, he is what he hides."
3
113
"Oh Captain, My Captain"
David Giuntoli
Thomas Ian Griffith
January 20, 2017
4.29
Synopsis: In order to stop the rise of Capt. Renard, Nick devises a plan that will take him out of his element. Adalind and Monroe do everything in their power to keep the plan on track. Meanwhile, Eve and Rosalee race against time to get the spell ready before it is too late.

---

Quote: "You will face yourself again in a moment of terror."
4
114
"El Cuegle"
Carlos Avila
Brenna Kouf
January 27, 2017
4.28
Synopsis: Nick, Hank and Wu investigate a terrifying new Wesen who terrorizes a young family and has a surprising motive. Capt. Renard is reeling after an unexpected guest appears. Meanwhile, Diana has some interesting news for Monroe and Rosalee. Elsewhere, Eve returns to the catacombs beneath Nick's loft to search for answers to her bizarre visions and side effects from being healed by the mysterious stick.

---

Quote: "Foretold our fate, by the gods' decree, all heard and none believed the prophecy."
5
115
"The Seven Year Itch"
Lee Rose
Jeff Miller
February 3, 2017
4.08
Synopsis: Nick and Hank join Wu to investigate a bizarre murder in a local park. Elsewhere, Capt. Renard continues to deal with a ghost from his past. Meanwhile, Monroe and Rosalee visit the doctor to see if Diana's premonition is true. Back at the loft, Adalind finds a very weak Eve in the tunnels and mysterious drawings scrawled on the walls.

---

Quote: "When something itches my dear sir, the natural tendency is to scratch."
6
116
"Breakfast in Bed"
Julie Herlocker
Kyle McVey
February 10, 2017
4.00
Synopsis: Nick, Hank and Wu investigate a local hotel after a grisly murder leads to one of its guests who claims to be haunted by a frightening creature in the night. At the spice shop, Monroe, Rosalee and Eve continue to research the origins of the symbols on the cloth and may be getting closer to unlocking its mystery. Meanwhile, Capt. Renard continues to be haunted by his past transgressions.

---

Quote: "Sleep is good, death is better; but of course, the best thing would to have never been born at all."
7
117
"Blind Love"
Aaron Lipstadt
Sean Calder
February 17, 2017
3.92
Synopsis: Rosalee surprises Monroe with a getaway for his birthday and invites most of the gang to join them. Things take a shocking turn when a hotel employee targets Nick in an effort to avenge his father. Meanwhile, Eve gets a visit from a dark force that she has seen before. Elsewhere, Capt. Renard spends the weekend with Diana when a former ally decides to get even.

---

Quote: "Love looks not with the eyes, but with the mind, And therefore is winged Cupid painted blind."
8
118
"The Son Also Rises"
Peter Werner
Todd Milliner &
Nick Peet
February 24, 2017
4.01
Synopsis: Deadly attacks on a team of scientists lead Nick, Hank and Wu on an investigation unlike any they have had before. Meanwhile, as the research continues into the origins of the cloth, Monroe and Rosalee learn that Eve is still feeling the after effects of the death grip. Elsewhere, Capt. Renard reaches out to an old friend to get answers to the origins of the symbols drawn by Diana.

---

Quote: "No man chooses evil because it is evil; he only mistakes it for happiness."
9
119
"Tree People"
Jim Kouf
Brenna Kouf
March 3, 2017
4.23
Synopsis: Nick, Hank and Wu are called to the scene of the crime where a man claims his friend was consumed by a tree-like figure. Meanwhile, after the gang learns of Eve's disturbing mirror encounter, everyone takes extra precautions. Elsewhere, Capt. Renard searches for answers to what Diana was drawing.

---

Quote: "In the morning glad I see my foe outstretched beneath the tree."
10
120
"Blood Magic"
Janice Cooke
Thomas Ian Griffith
March 10, 2017
3.95
Synopsis: After a series of brutal and deadly attacks, Nick and Hank find an unlikely lead in a local nursing home. Meanwhile, Eve goes to Adalind to get answers that only a Hexenbiest can provide. Elsewhere, Capt. Renard confronts Nick about the mysterious symbols and tries to strike a deal.

---

Quote: "Nothing, they say, is more certain than death, and nothing more uncertain than the time of dying."
11
121
"Where the Wild Things Were"
Terrence O'Hara
Brenna Kouf
March 17, 2017
3.96
Synopsis: Eve goes on a mission to take on the mysterious force she saw in the mirror and finds herself in unfamiliar territory. When the gang discovers what she has done, Nick finds a way to join her. Meanwhile, an uneasy alliance is established when Capt. Renard is brought in to help and discovers this all may be connected to the person he cares for the most, Diana.

---

Quote: "Hell is empty and all the devils are here."
12
122
"Zerstörer Shrugged"
Aaron Lipstadt
Teleplay by:
Brenna Kouf
Story by:
Jim Kouf & David Greenwalt
March 24, 2017
4.14
Synopsis: The prophecy that was uncovered comes to pass when a dark force arrives in Portland with its eyes set on Diana. In an effort to protect her, Nick, along with Capt. Renard and Adalind, returns to the scene of his first investigation as a Grimm. Back at the Spice Shop, Monroe, Eve and Rosalee make a discovery that uncovers the origins of the mysterious stick. Meanwhile, Hank and Wu are called to a crime scene that is connected to the gang's greatest threat.

---

Quote: "You shall break them with a rod."
13
123
"The End"
David Greenwalt
Jim Kouf &
David Greenwalt
March 31, 2017
4.33
Synopsis: Nick faces off against his greatest foe yet as it seems no weapon can defeat him. At the Spice Shop, Monroe, Rosalee and Eve search for answers and stumble upon a rare potion that may help the fight. Elsewhere, Capt. Renard and Adalind try to keep Diana and baby Kelly safe as the threat has its eyes set on the children.

---

Quote: "Thy rod and thy staff they comfort me."
Images
Episode Promotional Images
Key art
Season Premiere
Season 6 Renewal
#AGrimmFarewell
Series Finale
Videos
Gag Reel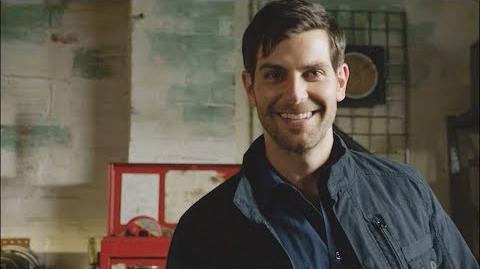 DVD/Blu-ray Release
Main article: Grimm: Season Six
Season 6 was released on June 13, 2017 on DVD and Blu-ray. The DVD version has 4 discs and the Blu-ray version has 3 discs featuring all 13 episodes.
Set Details
Special Features

13 Episodes
4-Disc (DVD)/3-Disc (Blu-ray) Set
Language: English (Dolby Digital 5.1)

(Blu-ray) English (DTS-HD Master Audio 5.1), French (DTS 5.1)

Subtitles: English, French

Deleted Scenes
Directing Grimm: Behind the Scenes with David Giuntoli
Gag Reel
A Grimm Farewell
Wu's Views
A Grimm Journey
Grimm Guide (Blu-ray only)
UltraViolet digital copies (Blu-ray only)
Boxart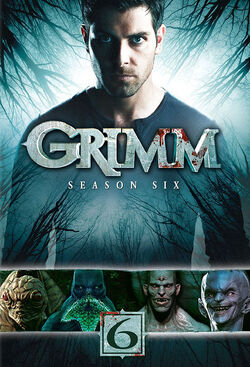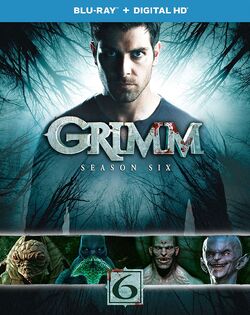 See Also