Wiki Targeted (Entertainment)
Play Sound
This article has been nominated for rewriting
Reason: Season summary is needed
Please remove this notice when the rewrite is completed.
Season 5 is the fifth season of Grimm. Grimm was renewed for a fifth season on February 5, 2015, and the season was filmed in the Portland, Oregon area. Filming for season 5 began on July 7, 2015.
The first episode of the season, "The Grimm Identity", aired on October 30, 2015 and the season five finale, "The Beginning of the End", aired on May 20, 2016.
Season Notes
Episodes went back to airing Fridays at 9 PM after the last nine episodes of season 4 aired at 8 PM on Fridays.
Season Recap
Coming at the conclusion of the season.
Cast
Crew
Writers
Directors
Wesen
New Wesen
Other
Not Returning or Completely New
Wesen Returning from Past Seasons
Mentioned or Appeared in Grimm Diaries only
New Wesen
Past Season Wesen
Diseases
Episode Summaries
No. in Season
No. in Series
Title
Directed by
Written by
Original air date
U.S. viewers

(millions)

1
89
"The Grimm Identity"
Eric Laneuville
Jim Kouf &
David Greenwalt
October 30, 2015
4.04
Synopsis: In the wake of his mother's beheading and Juliette's death, things have never been more chaotic for Nick. Having lost so much, Nick must dig deep and decide what type of person he wants to be, while also coming to grips with fathering a child with his once sworn enemy, Adalind. His search for the truth leads him to FBI Agent Chavez and puts him at odds with those close to him.

---

Quote: "It is not light that we need, but fire."
2
90
"Clear and Wesen Danger"
Norberto Barba
Thomas Ian Griffith
November 6, 2015
3.78
Synopsis: On the heels of becoming a new father, Nick must make some major changes to keep his child and Adalind safe. Monroe and Rosalee step in to help prepare for the new addition. Meanwhile, Capt. Renard assigns Hank a new partner as they investigate a brutal murder at an investment group.

---

Quote: "Cherish those who seek the truth but beware of those who find it."
3
91
"Lost Boys"
Aaron Lipstadt
Sean Calder
November 13, 2015
3.66
Synopsis: Rosalee goes missing after a band of orphaned children target her as the mother figure they have always wanted. With a furious Monroe by their side, Nick and Hank race against the clock to find Rosalee after discovering a connection to an earlier missing persons case that didn't have a happy ending. Meanwhile, Adalind ponders a return to her career after running in to an old colleague.

---

Quote: "I think I had a mother once."
4
92
"Maiden Quest"
Hanelle Culpepper
Brenna Kouf
November 20, 2015
3.62
Synopsis: A wealthy mobster sets three young men on a quest to win his daughter Emily's hand in marriage and earn his fortune. As they work toward accomplishing their task, bodies start to pile up and Nick and Hank are on the case. Meanwhile, Adalind and Nick try to adjust to home life but a surprise visitor shakes things up.

---

Quote: "After three days and nights, whoever tries and does not succeed shall be put to death."
5
93
"The Rat King"
David Solomon
Jeff Miller
December 4, 2015
3.69
Synopsis: Nick and Hank are called to the scene when three Wesen go out on a hunt at a local dump and get more than they bargained for when two turn up dead after they encounter the mythical Rat King. Meanwhile, a very badly wounded Trubel is taken to the hospital and Nick finally meets Meisner.

---

Quote: "Rats! They fought the dogs, and killed the cats..."
6
94
"Wesen Nacht"
Darnell Martin
Jim Kouf &
David Greenwalt
December 11, 2015
3.64
Synopsis: Nick and Hank investigate a wave of coordinated Wesen gang vandalism that results in the death of a local business owner and the kidnapping of Monroe and Rosalee's friend. As they dig deeper, they learn that Portland wasn't the only city hit with a wave of violence. Meanwhile, Trubel fills Nick and Adalind on what she has been up to. Elsewhere, Capt. Renard dips his toes into politics as he endorses a local candidate.

---

Quote: "Awake, arise, or be forever fall'n."
7
95
"Eve of Destruction"
John Behring
Thomas Ian Griffith
January 29, 2016
3.81
Synopsis: Nick and the gang are still reeling from the scope of the ambush and the surprise return of "Juliette", but not everything is as it seems. In light of the heightened Wesen violence, Monroe and Rosalee seek answers from the Wesen Council. Meanwhile, Trubel has some information for Nick that will help him get what he is looking for.

---

Quote: "I have been bent and broken, but, I hope, into a better shape."
8
96
"A Reptile Dysfunction"
David Straiton
Michael Golamco
February 5, 2016
4.42
Synopsis: A local legend comes back to life as Nick and Hank investigate a mysterious sighting linked to a tourist's death at a local lake. Rosalee's past comes back to haunt her. Elsewhere, Capt. Renard continues to support a candidate for mayor. Meanwhile, Nick is shown the scope of the Wesen uprising as the secret government agency takes him into the heart of their Portland operations center.

---

Quote: "A sucker is born every minute."
9
97
"Star-Crossed"
Carlos Avila
Sean Calder
February 12, 2016
4.19
Synopsis: A barbaric Wesen ritual is brought to the present and Nick, Hank and Wu are already five steps behind the serial killer. To aid in the investigation, Monroe goes undercover. Meanwhile, Hadrian's Wall's war against Black Claw intensifies as Eve uses her unique skills to interrogate a suspect.

---

Quote: "Only you shall not eat the blood; you shall pour it out on the earth like water."
10
98
"Map of the Seven Knights"
Aaron Lipstadt
Jim Kouf
February 19, 2016
4.04
Synopsis: Monroe gets a call from a relative in Germany that will bring Nick closer to his ancestors. Things get complicated when the nefarious group Black Claw is also after the same artifacts. Elsewhere, Capt. Renard helps a mayoral candidate get an edge on his opponent. Meanwhile, Trubel confronts Eve about Nick and Adalind.

---

Quote: "History is the nightmare from which I am trying to awake."
11
99
"Key Move"
Eric Laneuville
Thomas Ian Griffith
March 4, 2016
4.26
Synopsis: Newly gained artifacts take Nick and Monroe closer to the source of a long-gestating mystery. Elsewhere, Black Claw makes a deadly move that will send Portland into disarray.

---

Quote: "It is not down on any map; true places never are."
12
100
"Into the Schwarzwald"
Norberto Barba
Jim Kouf &
David Greenwalt
March 11, 2016
3.91
Synopsis: Nick and Monroe find a treasure in Germany that has been hidden for centuries. Back in Portland, Capt. Renard joins Hank and Wu to track down a deadly assassin who has thrown Portland into havoc. Little do they know that Eve is on a hunt of her own for the same man. Meanwhile, someone from Rosalee's past tracks her down.

---

Quote: "What's past is prologue."
13
101
"Silence of the Slams"
David Straiton
Brenna Kouf
March 18, 2016
4.20
Synopsis: A local maskmaker is targeting Wesen to create Luchador masks that bestows great power to its wearer. As Nick, Hank, Monroe and Rosalee work to stop the killings, Capt. Renard considers an offer that will bring him closer to claiming his destiny. Meanwhile, Eve's further investigation of a recent incident raises new questions.

---

Quote: "Give a man a mask and he will show you his true face."
14
102
"Lycanthropia"
Lee Rose
Jeff Miller
March 25, 2016
4.32
Synopsis: Following a brutal attack in the woods, Nick and Hank stumble upon a terrifying Wesen disease that may be the inspiration for the modern-day werewolf myth. Meanwhile, Adalind is offered an uneasy alliance that may help her get back what she wants most. Elsewhere, Eve's investigation uncovers a surprising revelation.

---

Quote: "The world is full of obvious things which nobody by chance ever observes."
15
103
"Skin Deep"
Karen Gaviola
Michael Golamco
April 1, 2016
4.05
Synopsis: When Nick and Hank come across a beautiful young woman who seems to have aged 70 years overnight and died, they suspect Wesen involvement. The investigation leads to a local doctor and Rosalee is enlisted to help find the truth. Meanwhile, Eve takes bold steps to learn more about Capt. Renard's nefarious dealings.

---

Quote: "It is amazing how complete is the delusion that beauty is goodness."
16
104
"The Believer"
John Behring
Jim Kouf &
David Greenwalt
April 8, 2016
4.25
Synopsis: An evangelical preacher has a tent revival unlike any other when he uses his Wesen identity to gain more believers. Nick and Hank are called to the scene as things escalate when a group of "true believers" are hell bent on saving the preacher and his flock by any means necessary. Meanwhile, Capt. Renard takes further steps to gain power in local government. Elsewhere, Eve uses Adalind's ol' hat trick to gain more access to Black Claw.

---

Quote: "We are each our own devil, and we make this world our hell."
17
105
"Inugami"
Sharat Raju
Kyle McVey
April 15, 2016
3.75
Synopsis: When the severed head of a young man is found under a bridge, Nick and Hank find themselves on the case of Japanese Wesen acting on an ancient tradition of revenge. Elsewhere, Adalind decides to go back to work at her old law firm and has her first face-to-face with Eve.

---

Quote: "Revenge is the act of passion, vengeance is an act of justice."
18
106
"Good to the Bone"
Peter Werner
Martin Weiss
April 22, 2016
3.89
Synopsis: When a man is found dead with all of the bones in his body seemingly liquefied and removed, Nick and Hank find themselves in the middle of a gruesome family arrangement. Meanwhile, Wu deals with a crisis of his own and Hank reunites with his old flame, Zuri.

---

Quote: "The evil that men do lives after them; The good is oft interred with their bones."
19
107
"The Taming of the Wu"
Terrence O'Hara
Brenna Kouf
April 29, 2016
3.76
Synopsis: Suffering from the bite he sustained, Sgt. Wu becomes entangled in a surprising altercation that may land him in hot water. After meeting the mysterious Bonaparte, Adalind is faced with a difficult decision that could change her and Nick's lives forever. Meanwhile, Hank gets even closer to Zuri and their relationship begins to take shape. Back at HW, Eve senses that a new force may jeopardize the entire operation.

---

Quote: "Nothing is so painful to the human mind as a great and sudden change."
20
108
"Bad Night"
Norberto Barba
Sean Calder
May 13, 2016
3.39
Synopsis: Nick leans on Monroe and Rosalee as he worries that he may lose everything as he continues to battle Black Claw. Renard ramps up his campaign as election time nears. Elsewhere, Adalind is faced with a very difficult decision in order to protect her children. Meanwhile, Hank's relationship with Zuri takes an unexpected turn and Wu tries to gain control of his new reality.

---

Quote: "We have to distrust each other. It is our only defense against betrayal."
21
109
"Set Up"
David Greenwalt
Jim Kouf &
David Greenwalt
May 20, 2016
4.03
Synopsis: Black Claw makes a strategic move against Hank that shocks everyone and sends Nick on a war path. Hadrian's Wall ramps up their investigation as they seek out a mysterious man named Bonaparte. Meanwhile, Adalind and Capt. Renard must learn to deal with their new and very unpredictable reality with Diana.

---

Quote: "It is better to die on your feet than to live on your knees."
22
110
"The Beginning of the End"
Norberto Barba
Thomas Ian Griffith
May 20, 2016
4.03
Synopsis: Black Claw makes a strategic move against Hank that shocks everyone and sends Nick on a war path. Hadrian's Wall ramps up their investigation as they seek out a mysterious man named Bonaparte. Meanwhile, Adalind and Capt. Renard must learn to deal with their new and very unpredictable reality with Diana.

---

Quote: "All the world is a will to power..."
Images
Episode Promotional Images
Key art
Season Premiere
Midseason Winter Premiere
Grimm's 100th Episode
Videos
Gag Reel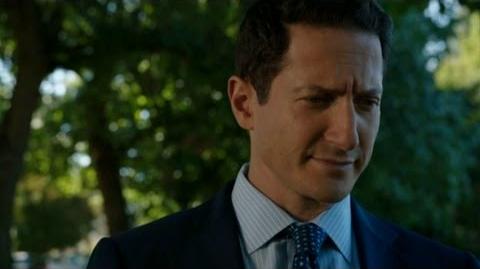 Behind the Scenes
DVD/Blu-ray Release
Main article: Grimm: Season Five
Season 5 was released on September 27, 2016 on DVD and Blu-ray. Both have 5 discs featuring all 22 episodes.
Set Details
Special Features

22 Episodes
5-Disc Set
Language: English (Dolby Digital 5.1)

(Blu-ray) English (DTS-HD Master Audio 5.1), French (DTS 5.1)

Subtitles: English, French

Deleted Scenes
Gag Reel
A Grimm New World
Unlocking the Mystery: Inside the 100th Episode
Fome Tour
(Blu-ray Only) Grimm Guide
Boxart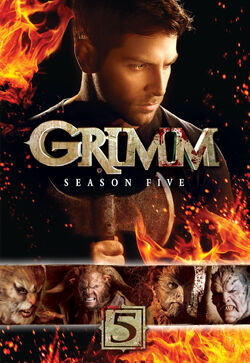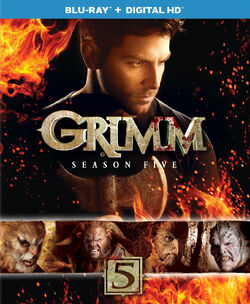 Trivia
See Also