House of the Dragon Trailer - The Loop
Play Sound
Season 3 is the third season of Grimm. Grimm was renewed for a third season on April 26, 2013, and the season was filmed in the Portland, Oregon area. Filming for season 3 began on July 15, 2013.
The first episode of the season, "The Ungrateful Dead", aired on October 25, 2013, and the season three finale, "Blond Ambition", aired on May 16, 2014.
Season Notes
The show moved back to Fridays at 9 PM after the last 4 episodes of season 2 aired on Tuesdays at 10 PM.
2 new webisodes debuted for this season. "Meltdown" aired its four weekly parts in the weeks leading up to the season premiere with the fourth part being released on the same day as the season premiere. The other webisode, "Love is in the Air: Elegant Endeavors", was released in its entirety on Valentine's Day.
Season Recap
Under the effects of the Cracher-Mortel toxin, Nick causes the plane carrying him to Europe to crash, killing Baron Samedi. In his zombie state, Nick kills a man in self-defense before being captured and cured by the rest of the team. A residual effect of the Cracher-Mortel toxin, however, causes Nick's endurance to be increased along with his strength. Another side effect is that while sleeping or when holding his breath, he can appear to be dead, something that scares Juliette on more than one occasion.
Juliette, with her new-found knowledge of the Wesen world, enthusiastically joins Nick, Hank, Monroe, and Rosalee in their adventures, even discovering a treatment for an old disease that previously necessitated a death sentence from the Wesen Council.
Adalind's pregnancy continues as she goes through the Contaminatio Ritualis with the help of Stefania, and Captain Renard realizes that the rumored royal baby being offered for sale could be Adalind's. Captain Renard arranges for the assassination of his half brother, Eric, who is replaced in the royal hierarchy by his cousin, Viktor.
Monroe proposes to Rosalee, and she happily accepts. Monroe's parents come to town after he tells them about his engagement. Once they discover that Rosalee is a Fuchsbau, however, they angrily disapprove as they are old fashioned and against inter-Wesen relationships. Nick unexpectedly shows up, and Monroe's dad, Bart, charges at him when he realizes he is a Grimm. Nick punches Bart in the face before Monroe restrains his dad, and both of his parents leave in anger. Eventually, Monroe fixes his relationship with his parents after Bart helps him and Nick fight three Wildesheers at the trailer, and Monroe's parents change their opinion on Monroe and Rosalee's relationship.
Wu sees an Aswang woged while trying to help one of his childhood friends. Seeing the Aswang causes him to check himself into a psychiatric hospital for a while after Nick and the gang decide against telling him the truth of the Wesen world.
Adalind gives birth to a girl with the help of Meisner, and Adalind regains her Hexenbiest powers. After a brief time of relaxing, Adalind, Meisner, and the baby go on the run as Viktor and the Verrat look for them to get the baby. Adalind, Meisner, and the baby eventually end up in Rafz, Switzerland where the Resistance has arranged for a plane to get Adalind and the baby out of the country. Adalind and Meisner get attacked by Verrat agents, but with the help of Kelly Burkhardt, they make it to the plane. Kelly then takes Adalind and the baby to Nick and Juliette's house, not knowing everyone's history. Adalind eventually goes to Captain Renard's house and introduces him to his daughter. Nick and Kelly go after her and end up helping Adalind, Renard, and the baby escape Verrat agents. After Adalind stays with Monroe and Rosalee for a few days, Nick, Kelly, Renard, Hank, and Monroe come up with a plan for Kelly to take care of baby Diana. They give her to Viktor, who came to Portland, only to disguise themselves as Resistance members and steal her back at the airport before Viktor goes back to Vienna.
After a couple Wesen are killed, Nick discovers that the suspect is a Grimm nicknamed Trubel. Due to how she grew up, she knows nothing about what a Grimm or Wesen are, so Nick brings her to live with him and Juliette, and he becomes her mentor. One day while Nick is at work, Josh Porter comes to Nick's house looking for him. Trubel ends up going with him to where his dad, Rolek, who is another Grimm, is hiding out. Rolek ends up in the hospital due to an illness, and after he dies, he leaves all of his Grimm diaries, weapons, and one of the Seven Keys with Nick.
After calling Viktor, thinking he still has Diana, Adalind starts making a potion in her mother's old storage unit. After it's complete, she uses a Witch's Hat to inhale the potion's vapor out of the top of the hat. The vapor causes her to transform into Juliette, and while the real Juliette is out getting her hair done for Monroe and Rosalee's wedding, Adalind seduces Nick and has sex with him due to him thinking she is Juliette. On the way to the wedding, Nick and Juliette realize what happened after Juliette accuses Nick of cheating after she found her negligee on the ground and the bed messy.
Trubel stays at Nick and Juliette's house while they are at the wedding. Captain Renard shows up with a potion for Nick after figuring out what Adalind did. After Trubel tells him where the wedding is, he is shot by rogue FBI agent Weston Steward as he is leaving the house. Trubel calls 911 for Renard after decapitating Weston and takes the potion to the wedding. Just after Monroe and Rosalee are married and being introduced to the guests for the first time as a married couple, Trubel arrives, causing the Wesen guests to freak out over her being a Grimm. Trubel is taken to a back room for her safety, where Nick realizes that he is no longer a Grimm due to what Adalind did to him, and the news of Captain Renard being shot has everyone in even more of a state of sullen disbelief.
Cast
Crew
Writers
Directors
Wesen
New Wesen
Wesen Returning from Past Seasons
Mentioned or Appeared in Grimm Diaries only
New Wesen
Past Season Wesen
Diseases
Episode Summaries
No. in Season
No. in Series
Title
Directed by
Written by
Original air date
U.S. viewers

(millions)

1
45
"The Ungrateful Dead"
Norberto Barba
Jim Kouf &
David Greenwalt
October 25, 2013
6.15
Synopsis: A panicked Juliette, Monroe, and Rosalee enlist Hank's help in fending off a zombie hoard while trying to figure out what happened to Nick. Knowing the truth, Captain Renard takes measures to help rescue Nick from the clutches of his brother, Eric. Elsewhere, along with the help of the mysterious Stefania, Adalind finds herself facing her most gruesome task yet in her effort to regain her Hexenbiest abilities.

---

Quote: "But if I stand at the sick person's feet, he is mine."
2
46
"PTZD"
Eric Laneuville
Jim Kouf &
David Greenwalt
November 1, 2013
4.96
Synopsis: Monroe, Hank, Rosalee and Juliette track down a manic Nick and do all they can to find him and reverse what's been done to him before he causes any more damage. Meanwhile, Captain Renard does his best to clean up the zombie fallout on all fronts - domestic and international. Elsewhere, the more time Adalind spends with Stefania, the more disturbing things seem to get in her quest to regain her Hexenbiest abilities.

---

Quote: "It is not more surprising to be born twice than once; everything in nature is resurrection."
3
47
"A Dish Best Served Cold"
Karen Gaviola
Rob Wright
November 8, 2013
4.88
Synopsis: A series of disturbing crime scenes leads Nick and Hank to the resurrection of an old feud that's all too familiar for Nick and Monroe. With the news of a royal family member's demise, several key players start to make their move. Meanwhile despite his recent trauma, Nick finds himself healthier than normal and Monroe and Rosalee talk about moving their relationship forward.

---

Quote: "Tis Death's Park, where he breeds life to feed him. Cries of pain are music for his banquet."
4
48
"One Night Stand"
Steven DePaul
Sean Calder
November 15, 2013
5.81
Synopsis: When Nick and Hank investigate a drowning death with mysterious marks on the victim's ankles, they happen upon a group of water-bound Wesen with a deadly postcoital cuddle. Meanwhile, Rosalee starts unpacking her things at Monroe's, and Captain Renard makes a startling realization about the possible identities of the Royal Baby's parents.

---

Quote: "More and more she grew to love human beings and wished that she could leave the sea and live among them."
5
49
"El Cucuy"
John Behring
Michael Golamco
November 29, 2013
5.73
Synopsis: Nick and Hank are on the case as repeat instances of apparent vigilantism have whispers of an old Spanish legend making their way through a working-class Portland neighborhood. Elsewhere, Juliette learns the truth about Nick's mother. Meanwhile, Adalind has a brief scare during her ultrasound.

---

Quote: "Duérmete niño, duérmete ya... Que viene el Coco y te comerá." ("Sleep child, sleep now... Or else the Bogeyman will come and eat you.")
6
50
"Stories We Tell Our Young"
Aaron Lipstadt
Michael Duggan
December 6, 2013
6.32
Synopsis: Nick faces his toughest challenge yet when he and Hank investigate a case that combines religious phenomenon with the dark dealings of the Wesen Council. Meanwhile, Rosalee is torn when Nick's case challenges her Wesen loyalties. Elsewhere, Captain Renard leaves town to tend to some "family matters."

---

Quote: "We don't believe, we only fear."
7
51
"Cold Blooded"
Terrence O'Hara
Thomas Ian Griffith
December 13, 2013
4.88
Synopsis: As a deadly crime spree begins to surface, a century-old urban legend takes shape in Portland's sewers and becomes Nick's latest case. In Europe, Adalind meets Prince Viktor, who's come to bring those responsible for his cousin Eric's demise to justice. Meanwhile, Captain Renard responds to the recent attempt on his life.

---

Quote: "But for the pit confounders, let them go, and find as little mercy as they show!"
8
52
"Twelve Days of Krampus"
Tawnia McKiernan
Dan E. Fesman
December 13, 2013
4.88
Synopsis: After a string of delinquent teens go missing, an old Wesen tale of an evil Santa who brings more than just a lump of coal may be the prime suspect. The investigation intensifies as Nick and Hank take things a little too far. Meanwhile, Monroe enlists Juliette to surprise Rosalee for their first Christmas together with unintended results. Elsewhere, Captain Renard's tour of Europe brings him closer to tracking down Adalind.

---

Quote: "O Christmas Tree, O Christmas Tree, How steadfast are your branches..."
9
53
"Red Menace"
Allan Kroeker
Alan DiFiore
January 3, 2014
5.68
Synopsis: Nick and Hank investigate a Wesen "healer" whose ability holds risks that far outweigh its rewards. Meanwhile, Juliette takes in a friend when domestic issues escalate and Hank makes a move on his physical therapist Zuri. Elsewhere, Captain Renard finally tracks down Adalind and has a stern warning for her.

---

Quote: "To kill Koschei the Deathless, first you must find his soul, which is hidden in an egg, in a duck in a lead chest buried beneath an oak tree."
10
54
"Eyes of the Beholder"
Peter Werner
Thomas Ian Griffith
January 10, 2014
5.33
Synopsis: Nick and Hank are called to the scene of a gang-related homicide. The case escalates as Zuri, Hank's physical therapist, and her brother get caught up in the investigation. Meanwhile, Juliette seeks advice from Rosalee in dealing with the news that her friend is Wesen.

---

Quote: "I am glad 'tis night, you do not look on me, for I am much ashamed of my exchange."
11
55
"The Good Soldier"
Rashaad Ernesto Green
Rob Wright
January 17, 2014
5.71
Synopsis: Nick and Hank are called to the gruesome murder of a veteran working in home security. During their investigation, they discover this might be one of several revenge killings regarding a horrifying cover-up involving members of the army and military contractors. On the domestic front, Monroe accompanies Rosalee during her long overdue reunion with her mother and sister. In Europe, Adalind sees hints of what she thinks might be her powers returning.

---

Quote: "Eye for eye, tooth for tooth, hand for hand, foot for foot."
12
56
"The Wild Hunt"
Rob Bailey
Jim Kouf &
David Greenwalt
January 24, 2014
5.88
Synopsis: Nick and Hank investigate a cop killer who scalps his victims. Meanwhile, Juliette begins to communicate with Nick's mom via email and Adalind finds herself much closer to delivering her baby than she previously thought. Elsewhere, Monroe's parents decide to surprise him and Rosalee with an early arrival to Portland after learning some exciting news.

---

Quote: "Come back in the evening, I'll have the door locked to keep out the wild huntsmen."
13
57
"Revelation"
Terrence O'Hara
Jim Kouf &
David Greenwalt
February 28, 2014
5.32
Synopsis: Monroe fights an impossible battle to convince his parents to embrace the life choices he's made. Meanwhile, Nick turns to Juliette to help him figure out the Wesen aspect of his cop-killing scalper investigation. On the Royal Baby front, Captain Renard learns new information that forces him to contact Adalind in the interest of keeping her and the baby safe from Viktor.

---

Quote: "Still, after a short time the family's distress again worsened, and there was no relief anywhere in sight."
14
58
"Mommy Dearest"
Norberto Barba
Brenna Kouf
March 7, 2014
5.65
Synopsis: A horrible new predator creeps into Portland with its sight set on a young expectant couple who are close friends of Sgt. Wu. Nick and Hank must figure out how to deal with Wu as the investigation escalates. Meanwhile, Adalind prepares for a special delivery while her enemies are hot on her trail.

---

Quote: "I am going off to a house and entering it like a snake... I will devour their babes and make their hearts ache."
15
59
"Once We Were Gods"
Steven DePaul
Alan DiFiore
March 14, 2014
5.63
Synopsis: Nick and Hank find themselves thrown into the middle of an ancient battle and things heat up when the Wesen Council decides to get involved. Monroe and Rosalee fill everyone in on early Wesen history. Meanwhile, Sgt. Wu is still reeling from the events he recently experienced. As things heat up in Europe, one of the Resistance's most trusted allies gets compromised as he tries to protect Adalind.

---

Quote: "You shall not become corrupt, you shall not become putrid, you shall not become worms."
16
60
"The Show Must Go On"
Paul A. Kaufman
Marc Gaffen &
Kyle McVey
March 21, 2014
5.71
Synopsis: A double homicide leads Nick and Hank to a traveling carnival where the performers are not what they seem. To get a better understanding of what's going on behind the scenes Monroe and Rosalee go undercover. On the wedding front, Monroe has a really important question for Nick. In Austria, an invaluable member of the Resistance makes the ultimate sacrifice to help Adalind.

---

Quote: "Under such conditions, whatever is evil in men's natures comes to the front."
17
61
"Synchronicity"
David Solomon
Teleplay by:
Michael Golamco
Story by:
Michael Duggan & Michael Golamco
April 4, 2014
4.89
Synopsis: The Resistance's plan to keep Adalind safe gets kicked into high gear when an unexpected ally arrives to ensure she and the baby make it out of Europe safely. In Portland, as Monroe and Rosalee prepare for their upcoming wedding, Nick and Juliette are reminded of their failed proposal.

---

Quote: "In all chaos there is a cosmos, in all disorder a secret order."
18
62
"The Law of Sacrifice"
Terrence O'Hara
Teleplay by:
Michael Duggan
Story by:
Michael Duggan & Michael Golamco
April 11, 2014
4.73
Synopsis: Nick and his mom, Kelly Burkhardt, join forces to protect Adalind's baby. Meanwhile, Prince Viktor activates a deadly stateside asset to find Adalind and her child.

---

Quote: "The Queen was terrified and offered the little man all the riches of the kingdom, if only he would leave the newborn child alone."
19
63
"Nobody Knows the Trubel I've Seen"
Norberto Barba
Jim Kouf &
David Greenwalt
April 25, 2014
4.39
Synopsis: Nick and Hank investigate a dangerous female suspect leaving a trail of Wesen in her wake. Elsewhere, Adalind takes measures into her own hands, even if that means forging a dangerous alliance.

---

Quote: "Nobody knows the trouble I've seen, nobody knows my sorrow."
20
64
"My Fair Wesen"
Clark Mathis
Teleplay by:
Sean Calder
Story by:
Thomas Ian Griffith &
Rob Wright
May 2, 2014
4.93
Synopsis: Nick does his best to educate Trubel on how best to handle the world she is learning about for the first time, and decides it best to bring her on a ride along with Hank. They find themselves investigating the homicide of a young woman that strikes a chord for Trubel. Meanwhile, Adalind makes a discovery that she hopes will lead her to regain something she has lost.

---

Quote: "No longer a dark, gray bird, ugly and disagreeable to look at, but a graceful and beautiful swan."
21
65
"The Inheritance"
Eric Laneuville
Dan E. Fesman
May 9, 2014
4.78
Synopsis: Nick and Hank are called to investigate a double homicide, and quickly learn the victims were from a special section of the Verrat tasked with finding rare objects pertaining to the Wesen world. Trubel gets involved with a mysterious father-and-son tandem that crossed the country in a desperate attempt to deliver invaluable cargo to "the Portland Grimm." Meanwhile, Captain Renard begins to grow suspicious of Adalind's recent behavior and quietly decides to put extra eyes on her.

---

Quote: "'No,' said the King. 'I had rather die than place you in such a great danger as you must meet with in your journey.'"
22
66
"Blond Ambition"
Norberto Barba
Jim Kouf &
David Greenwalt
May 16, 2014
5.34
Synopsis: It's Monroe and Rosalee's big day and their joy will only be matched by unexpected heartache for those around them. Nick and Juliette make a startling realization that could shake their relationship to its core. Meanwhile, Adalind proceeds with a delicately laid plan that leads to a catastrophic event that will alter the course of Nick's journey.

---

Quote: "Turn back, turn back, thou pretty bride, within this house thou must not abide. For here do evil things betide."
Webisodes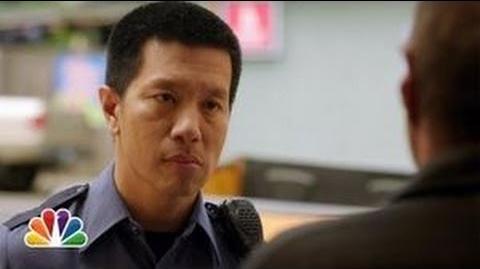 Images
Episode Promotional Images
Promo images and Key art
Comic Con 2013
Videos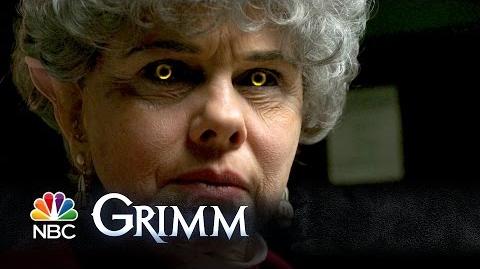 Gag Reel
Behind the Scenes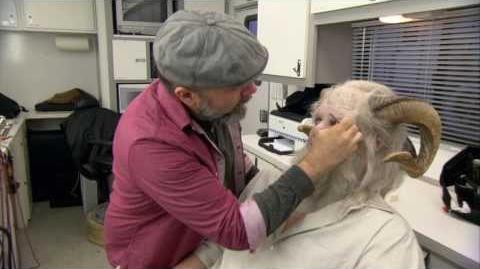 DVD/Blu-ray Release
Main article: Grimm: Season Three
Season 3 was released on September 16, 2014 on DVD and Blu-ray. Both have 5 discs featuring all 22 episodes.
Set Details
Special Features

22 Episodes
5-Disc Set
Language: English (Dolby Digital 5.1)

(Blu-ray) English (DTS-HD Master Audio 5.1), French (DTS-HD High Res Audio), Spanish (DTS 5.1)

Subtitles: English

(Blu-ray) English, French, Spanish, Swedish, Danish, Finnish, Dutch, Norwegian

Dubbed: English

(Blu-ray) French

Deleted Scenes
Gag Reel
Something Wesen This Way Comes: Inside Season 3 of Grimm
Double Take: Fighting a Hundjäger
Meltdown Digital Series
Love Is in the Air: Elegant Endeavors Digital Series
(Blu-ray Only) Grimm Guide
Boxart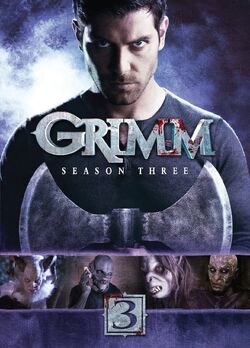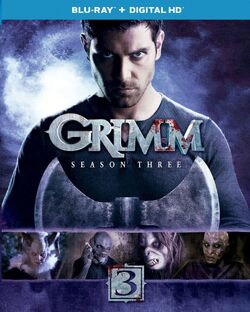 See Also