Season 2 is the second season of Grimm. Grimm was renewed for a second season on March 16, 2012, and the season was filmed in the Portland, Oregon area. Filming for the second season started on May 30, 2012.
The first episode of the season, "Bad Teeth", aired on August 13, 2012, and the season two finale, "Goodnight, Sweet Grimm", aired on May 21, 2013.
Season Notes
Bree Turner was promoted to a series regular for season 2 at the beginning of the season. Claire Coffee was promoted to a series regular for season 2 beginning with "Season of the Hexenbiest".
The first four episodes debuted on Monday nights at 10 PM before moving back to Friday nights at 9 PM starting September 28.
During the nearly four month long hiatus between "Season of the Hexenbiest" and "Face Off", a four part weekly webseries was released, called "Bad Hair Day".
The last 4 episodes of the season aired on Tuesdays at 10 PM.
Season Recap
The season starts where the previous one ended: with Nick being reunited with his mother, Kelly Burkhardt. She decides that a lengthy stay would be counter-productive, so she leaves after a few days, taking the Coins of Zakynthos with her to supposedly destroy them.
Sean Renard wakes Juliette from her coma after taking a potion brewed by Adalind's mother, revealing himself to be a half-Zauberbiest and a Royal in the process. The potion has the unexpected side effect of causing Sean and Juliette to become dangerously obsessed with each other. This situation requires all of Rosalee's apothecary skills to resolve.
Her obsession with Sean Renard is not the only result of Juliette's coma, as she is unable to remember her relationship with Nick. Although she remembers events, she doesn't recall Nick's presence at them. With help from mutual friends and a mystic named Pilar, she slowly begins to regain her memory.
Just before Hank spirals into madness after attacking his therapist and shooting his closet, his abducted god-daughter, Carly Kampfer, woges into a Coyotl during her rescue, and Nick is forced to explain about Wesen and that he is a Grimm to prevent him from shooting her. Hank is unsure about the revelations but copes by deciding that he may be crazy, but at least he's not alone.
Adalind conducts affairs with both Sean Renard and his brother, Eric, with the aim of becoming pregnant and trading the baby with Stefania Vaduva Popescu, the Queen of the Schwarzwald Gypsies, for the return of her powers.
Nick continues to juggle his twin roles of cop and Grimm whilst fending off the attacks of those who seek the key. He finds out the Captain Renard was the instigator of the earlier attempts to take the key, but when he does gain possession of the key, he returns it to Nick.
As Juliette regains her memory, she recalls that Nick was trying to tell her something before she fell into a coma, and she consults Monroe, who with Rosalee and Bud, introduce Juliette to the Wesen world.
Eric conceives a plan to capture Nick and force Sean to return to Europe using the zombies of Baron Samedi to create chaos in Portland. The season ends with Nick in a coffin in the first stage of a Cracher-Mortel victim: paralysis with a death-like appearance.
Cast
Crew
Writers
Directors
Wesen
New Wesen
Wesen Returning from Season 1
Mentioned or Appeared in Grimm Diaries only
New Wesen
Season 1 Wesen
Mentioned in Rosalee's spice shop books only
Non-Wesen Beings
Diseases
Episode Summaries
No. in Season
No. in Series
Title
Directed by
Written by
Original air date
U.S. viewers

(millions)

1
23
"Bad Teeth"
Norberto Barba
Jim Kouf &
David Greenwalt
August 13, 2012
5.64
Synopsis: After their face-off with Kimura, Nick finds himself trying to come to grips with the return of his mother, Kelly Burkhardt. A trail of brutal murders unveils a foreign conspiracy to hunt down Nick, leading to several revelations about his past. Meanwhile, Juliette still lies in her mysteriously-induced coma as Rosalee and Monroe work tirelessly to bring her out of it safely. Elsewhere, Hank struggles with the shocking truths he's recently seen and Captain Renard deals with unexpected family issues when his estranged brother comes back into his life.

---

Quote: "The blood-dimmed tide is loosed, and everywhere the ceremony of innocence is drowned..."
2
24
"The Kiss"
Terrence O'Hara
Jim Kouf &
David Greenwalt
August 20, 2012
4.90
Synopsis: As Nick and his mother continue to battle the Mauvais Dentes, Monroe and Rosalee fight against the clock to save Juliette. More details are revealed about the source of Juliette's illness, resulting in an epic showdown. Back at the precinct, Hank senses that something is amiss when Nick lands in hot water with the FBI. Meanwhile, Captain Renard continues to reveal himself as he deals with his estranged brother.

---

Quote: "If a man of pure heart were to fall in love with her, that would bring her back to life."
3
25
"Bad Moon Rising"
David Solomon
Richard Hatem
August 27, 2012
4.67
Synopsis: As Hank continues to seek help to cope with the inexplicable siting he had, an old friend, Jarold Kampfer, needs his help when his daughter goes missing. Nick's expertise as a Grimm comes in to play as he investigates the disturbing motives linked to the disappearance.

---

Quote: "Then she began to weep bitterly, and said, 'What can a poor girl like me do now?"
4
26
"Quill"
David Straiton
David Simkins
September 3, 2012
4.62
Synopsis: While investigating an accident site, Nick comes upon a bizarre and gruesome Wesen disease that is spreading quickly. A romantic day out for Monroe and Rosalee takes a dangerous turn when they encounter an infected creature that is out for blood. Meanwhile, Captain Renard gets a tip about a dangerous foreign fugitive who's made his way to Portland.

---

Quote: "Death stood behind him and said: Follow me, the hour of your departure from this world has come."
5
27
"The Good Shepherd"
Steven DePaul
Dan E. Fesman
September 28, 2012
5.32
Synopsis: When a local Reverend reports that his church has been robbed, Nick quickly learns that it's a Wesen church, and enlists Monroe to check for any suspicious activity regarding the shepherd's flock. Meanwhile, Nick and Juliette continue to figure out the rules of their relationship as a dangerous opponent lurks in the shadows with his sites on Nick.

---

Quote: "Dressed in the skin, the wolf strolled into the pasture with the Sheep. Soon a little Lamb was following him about and was quickly led away to slaughter."
6
28
"Over My Dead Body"
Rob Bailey
Spiro Skentzos
October 5, 2012
5.29
Synopsis: Angelina comes back in to town with bad tidings as Monroe learns his continued cooperation with the Grimm may come at a high cost. Nick comes to Hank for help to keep Monroe safe and Hank uses this time to get caught up with his knowledge of the "Wesen world." Meanwhile, an old European acquaintance pays Captain Renard a visit, but it's hard to tell if this visit is for business or pleasure.

---

Quote: "Whilst he thus gazed before him, he saw a snake creep out of a corner of the vault and approach the dead body."
7
29
"The Bottle Imp"
Darnell Martin
Alan DiFiore
October 12, 2012
5.01
Synopsis: After investigating a grisly murder, clues lead Nick and Hank to a seemingly unstable father who is on the run with his daughter. As they learn more about the case they realize that the girl's father may be the least of their worries. At the spice shop, Monroe finds out filling in for Rosalee isn't as simple as he'd hoped it would be. Meanwhile, Captain Renard finds himself paying unwarranted attention to more than one woman from his past.

---

Quote: "Let me out, let me out,' the spirit cried. And the boy, thinking no evil, drew the cork out of the bottle."
8
30
"The Other Side"
Eric Laneuville
William Bigelow
October 19, 2012
5.03
Synopsis: Nick and Hank are called to the scene of a murdered high school academic decathlete and learn just how competitive some extracurricular activities can be, and the extremes some coaches and parents will go to give students the best chance for success. In other police matters, Captain Renard deals with an unwanted infatuation while we learn an old accomplice of his has been spending time with his family in Europe. Elsewhere, Monroe continues to manage the spice shop and gets a visit from an unlikely customer.

---

Quote: "I thought of making myself a beautiful marionette. It must be wonderful, one that can dance, fence and turn somersaults."
9
31
"La Llorona"
Holly Dale
Akela Cooper
October 26, 2012
6.11
Synopsis: Despite the enthusiastic anticipation of the city's residents for Halloween, a series of horrifying child abductions make their way to Portland, quickly spoiling the holiday spirit. Nick and Hank join forces with Valentina Espinosa, a mysterious detective from Albuquerque, to help find and capture the elusive suspect. Juliette joins their investigation, acting as the precinct's fill-in Spanish translator. The more Nick digs into the case, the more he realizes the pattern of the kidnapping matches those in the famed Hispanic horror story La Llorona, a story with its roots intertwined with his own family's history. Meanwhile, Monroe celebrates the holiday in fine style as he teaches the neighborhood bullies a lesson.

---

Quote: "On many a dark night people would see her walking along the riverbank and crying for her children."
10
32
"The Hour of Death"
Peter Werner
Sean Calder
November 2, 2012
5.64
Synopsis: When a brutal vigilante homicide is made public, it sends Portland's Wesen community into a frenzy. As Nick investigates further, he discovers a pattern similar to that of a particularly brutal line of past Grimms. Is there another Grimm in town, or is Nick dealing with a sadistic copycat? Meanwhile, Captain Renard takes it upon himself to offer Juliette comfort in handling her on going dilemma with Nick.

---

Quote: "And branded upon the beast, the mark of his kin. For none shall live whom they have seen."
11
33
"To Protect and Serve Man"
Omar Madha
Dan E. Fesman
November 9, 2012
5.21
Synopsis: Hank starts reflecting on an arrest he made earlier in his career regarding a man who committed murder claiming "self-defense against monsters." With the man's death sentence rapidly approaching and the knowledge he's recently gathered from Nick, Hank begins to wonder if there was more truth to the man's seemingly absurd story then he once thought. Back at the spice shop, Monroe finds himself involved in a situation he never saw coming.

---

Quote: "The beast was simply the Call of the Wild personified... which some natures hear to their own destruction."
12
34
"Season of the Hexenbiest"
Karen Gaviola
Teleplay by:
David Greenwalt &
Jim Kouf
Story by:
Jim Kouf
November 16, 2012
5.03
Synopsis: Adalind returns to wreak havoc in everyone's lives and avenge her mother's brutal death. She has her eyes set on Nick and those closest to him – especially Hank and Juliette. Elsewhere, Captain Renard's obsession continues to escalate. Meanwhile, a surprise visit at the spice shop gives Monroe more than he ever bargained for.

---

Quote: "Oh! There is a terrible witch in that house who spewed her poison over me and scratched me with her long fingernails."
13
35
"Face Off"
Terrence O'Hara
Jim Kouf &
David Greenwalt
March 8, 2013
4.90
Synopsis: After Nick learns about Juliette and Captain Renard, he must deal with the consequences. Things get even more complicated when Nick is called to investigate his own crime. Meanwhile, the search for the key intensifies as Captain Renard finds Nick's trailer and makes a surprising alliance. With Rosalee's help, Monroe informs Nick that they might be able to stop what's going on with Renard and Juliette before it goes too far. Elsewhere, Wu responds to a bizarre shooting at Nick and Juliette's house.

---

Quote: "The will to conquer is the first condition of victory."
14
36
"Natural Born Wesen"
Michael Watkins
Thomas Ian Griffith &
Mary Page Keller
March 15, 2013
4.91
Synopsis: The Wesen code of honor comes into question when Nick, Hank and Monroe discover a series of bank robberies with Wesen using true natures as their disguises. Meanwhile, Juliette finds herself tormented by faint, slowly returning memories that cause her to question her mental state.

---

Quote: "So the animals debated how they might drive the robbers out, and at last settled on an idea."
15
37
"Mr. Sandman"
Norberto Barba
Alan DiFiore
March 22, 2013
5.00
Synopsis: When a mysterious case of sudden blindness causes a woman's death, Nick and Hank come across a disturbing Wesen that feeds off its victim's tears. Meanwhile, Adalind contemplates the significance of her new situation, while Juliette continues to work with Rosalee in an effort to fix her memory.

---

Quote: "Now we've got eyes — eyes — a beautiful pair of children's eyes", he whispered."
16
38
"Nameless"
Charles Haid
Akela Cooper
March 29, 2013
4.86
Synopsis: When a gruesome homicide brings an office party to a screeching halt, Nick and Hank find themselves battling a Wesen on a completely new platform - online. Meanwhile, Juliette's mysterious hallucinations finally start to take shape, giving them a whole new meaning.

---

Quote: "Then he seized his left foot with both hands in such a fury that he split in two."
17
39
"One Angry Fuchsbau"
Terrence O'Hara
Richard Hatem
April 5, 2013
5.13
Synopsis: While on jury duty, Rosalee tasks Nick, Hank and Monroe to help stop a defense attorney from using his particular "Wesen wiles" to overturn what should be an open-and-shut murder case. Back at the precinct, Captain Renard brings Nick and Hank in on his own recent dealings with the Verrat, to keep them on their toes. Meanwhile, a return to the trailer brings a flurry of memories of Nick rushing back to Juliette.

---

Quote: "He sang a sweet song in tones so full and soft that no human ear could resist them nor fathom their origin..."
18
40
"Volcanalis"
David Grossman
Jim Kouf & David Greenwalt
April 19, 2013 (Canada)
April 26, 2013 (United States)
4.85
Synopsis: Nick finds himself fighting a wildly different sort of nature freak in a desperate attempt to keep a volcano from burying Portland in lava. Meanwhile a pregnant Adalind meets a powerful new ally in Europe. Meanwhile, Juliette seeks out help after becoming overwhelmed by the latest side effect of her recovery - multiple memories of Nick showing up everywhere.

---

Quote: "The demon came home, and he declared that the air was not clear. 'I smell the flesh of man.'"
19
41
"Endangered"
David Straiton
Spiro Skentzos
April 30, 2013
5.77
Synopsis: Mysterious cow mutilations and reports of glowing creatures put Nick on a case that forces him to question the existence of aliens within the Wesen world. He also meets a strange UFO expert who seems to know more than he's letting on. Meanwhile, Nick digs further into the key, and Juliette's romantic memories of Nick start coming back in a big way.

---

Quote: "They'll kill you, and I'll be here in the woods all alone and abandoned."
20
42
"Kiss of the Muse"
Tawnia McKiernan
Sean Calder
May 7, 2013
5.67
Synopsis: Nick discovers a muse-like Wesen with the ability to influence those she gets close to - some with positive results, others with terrifying ones. Nick must find a way to get close without losing himself in the process. Juliette arranges a dinner date with Nick in the hopes of clearing the air, but their plans go awry as the case intensifies. Meanwhile, Rosalee takes her first visit to Aunt Marie's trailer.

---

Quote: "Tell me O' Muse, from whatever source you may know them."
21
43
"The Waking Dead"
Steven DePaul
Jim Kouf &
David Greenwalt
May 14, 2013
5.36
Synopsis: Nick and Hank discover a new kind of strange when they investigate suspects being found dead - for the second time. In Europe, Adalind finds herself in the middle of a feud between Frau Pech and Stefania while working over the details of her pending transaction. Meanwhile, determined to remember every last detail to get things started once more, Juliette insists Monroe share with her Nick's darkest secret - the world of Grimms and Wesen.

---

Quote: "Papa Ghede is a handsom fellow in his hat and coat of black. Papa Ghede is going to the palace! He'll eat and drink when he gets back!"
22
44
"Goodnight, Sweet Grimm"
Norberto Barba
Jim Kouf &
David Greenwalt
May 21, 2013
4.99

Synopsis: Just when things look like they're back to normal with Juliette, Nick is called to investigate a flurry of rage-fueled assaults happening all over Portland. He goes to Monroe and Rosalee for help battling Portland's newest wave of "undead." As if that weren't enough, Captain Renard informs Nick that his brother Eric is in town on family business. Meanwhile, Stefania and Frau Pech methodically use their alliances with Adalind to battle one another.

---

Quote: "And flights of angels sing thee to thy rest."
Webisode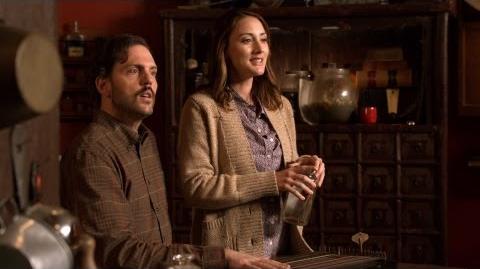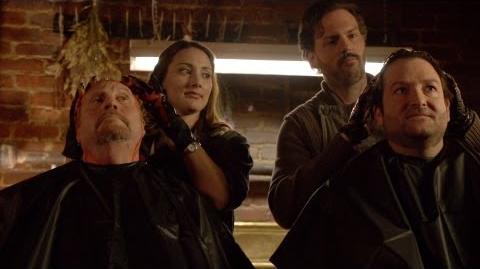 Images
Episode Promotional Images
New Season
Halloween Episode
Mid-Season Return
Videos
Gag Reel
Behind the Scenes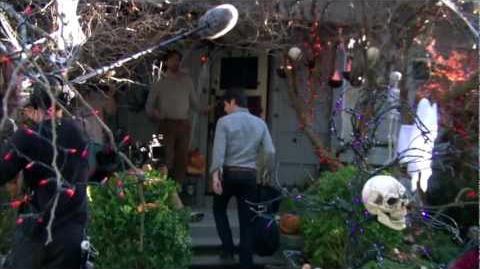 DVD/Blu-ray Release
Main article: Grimm: Season Two
Season 2 was released September 17, 2013 on DVD and Blu-ray. Both have 5 discs featuring all 22 episodes.
Set Details
Special Features

22 Episodes
5-Disc Set
Language: English (Dolby Digital 5.1)

(Blu-ray) English (DTS-HD Master Audio 5.1)

Subtitles: English

Deleted Scenes
Gag Reel
Grimm: Myths, Monsters & Legends - Learn about the ever-expanding mythology of Grimm as producers and cast discuss the richness of the show's storylines, covering this season's terrifying Wesen, the Seven Royal Families, and the mysteries of Aunt Marie's trailer
Grimm: Creatures and Chaos - Watch as the creatures of Grimm morph and wreak havoc on anyone – or anything – in their path
"Bad Hair Day" Webisodes: A fellow Wesen visits Rosalee's spice shop looking for a hair-loss cure in this 4-part series
Monroe's Best Moments: Revisit the quips and quibbles that makes Monroe our favorite Wesen
(Blu-ray Only) Grimm Guide: An interactive book that provides insight into the various creatures featured in the show
(Blu-ray Only) Extended Episode - Featuring never-before-seen footage of the episode "Over My Dead Body"
Boxart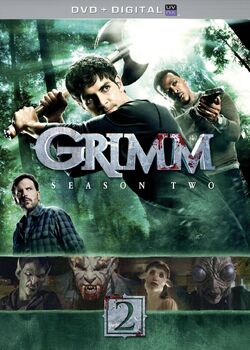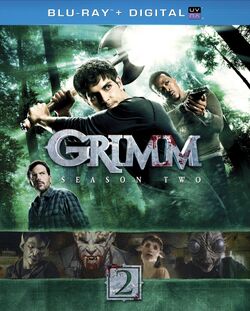 See Also