Wiki Targeted (Entertainment)
Play Sound
Season 1 is the first season of Grimm. The pilot was picked up by NBC on January 28, 2011, and the season was filmed in the Portland, Oregon area.
The "Pilot" premiered on October 28, 2011 on NBC, and the season one finale, "Woman in Black", aired on May 18, 2012. The first season introduced the concept of Wesen living within some people and the Grimms being hunters of the Wesen.
Season Recap
Portland Police detective Nick Burkhardt thinks that he has his life all planned. He is a successful detective, he has a good working relationship with his boss Captain Renard, his partner Hank Griffin, and other officers in the precinct, he has just purchased an engagement ring, and he is planning to ask his girlfriend Juliette Silverton to marry him. All his plans are called into question when he sees an attractive young woman suddenly morph into a hag, a change that nobody else notices. Later that day in the precinct, a man being charged briefly changes into a lizard-like being, and again, no one but him notices. That evening, Nick's aunt, Marie Kessler, visits him and Juliette. Aunt Marie has cancer and does not have long to live, but before she dies, she has something to tell Nick.
Aunt Marie tells Nick that he is descended from a line of creature hunters known as Grimms, who have the responsibility to protect the rest of mankind from the creatures who are known as Wesen. She also tells him that the trailer she brought with her contains information and equipment to help him in his task. Aunt Marie gives Nick a small antique key and tells him to protect it with his life as "they" want it.
With help from Monroe, a Blutbad he met while working on case, and Rosalee Calvert, a Fuchsbau, Nick deals with crimes involving several different types of Wesen ranging from the bear-like Jägerbars to the rat-like Reinigen. He soon discovers that there are several inimical Wesen species, such as the Hexenbiests and the Blutbaden to the hound dog-like Hundjägers and the Hässlichen. He soon realizes that his unique status as Grimm and cop enables him to become a force for peace, both within the Wesen community and the interactions between Wesen and humans. This, however, does cause problems for Hank as his encounters with the Wesen world cause him to doubt his sanity.
Whilst not knowing what the key represents, he comes to appreciate its value to some factions within the Wesen community when the Hexenbiest, Adalind Schade, nearly kills Hank to make him surrender it. In the process of saving Hank, Nick causes Adalind to lose her Wesen spirit and powers, but not her magical knowledge. In an act of revenge, Adalind causes Juliette to fall into a magically induced coma.
The season ends with Nick's mother helping him defeat one of the assassins who had killed his father and who Nick also thought killed his mother in an abortive attempt to take possession of the Coins of Zakynthos, an artifact that had come into Nick's possession earlier in the year.
Cast
Crew
Writers
Directors
Wesen
Physically appear
Episode Summaries
No. in Season
No. in Series
Title
Directed by
Written by
Original air date
U.S. viewers

(millions)

1
1
"Pilot"
Marc Buckland
Teleplay by:
David Greenwalt &
Jim Kouf
Story by:
David Greenwalt &
Jim Kouf
and Stephen Carpenter
October 28, 2011
6.56
Synopsis: After the mysterious brutal attack of a local college co-ed, Portland homicide Detective Nick Burkhardt discovered he is descendant of an elite line of criminal profilers known as "Grimms," charged with keeping balance between humanity and the mythological creatures of the world. As he tries to hide the dangers of his new found calling from his fiancé, Juliette Silverton, and his partner, Hank Griffin, he becomes ever more entrenched in the ancient rivalries and alliances of the Grimm world. With help from his reluctant confidant, Monroe, a reformed Grimm creature himself, Nick must navigate through the forces of a larger-than-life mythology.

---

Quote: "The wolf thought to himself, what a tender young creature. What a nice plump mouthful..." - The Brothers Grimm, 1812

2
2
"Bears Will Be Bears"
Norberto Barba
David Greenwalt &
Jim Kouf
November 4, 2011
6.01
Synopsis: A case of breaking and entering introduces Nick and Hank to a mysterious family whose cultural background blurs the line of right and wrong. Meanwhile, Nick tasks Monroe with safeguarding Aunt Marie.

---

Quote: "She looked in the window, and then peeped through the keyhole; seeing nobody in the house, she lifted the latch."

3
3
"Beeware"
Darnell Martin
Cameron Litvack &
Thania St. John
November 11, 2011
5.18
Synopsis: The station is abuzz as Nick and Hank are called to a case where an innocent flash mob results in a gruesome homicide. As Nick delves further into the investigation, he learns more about his unique family history, and finds himself at odds when he and Hank are assigned to protect a dark character from his recent past.

---

Quote: "She'll sting you one day. Oh so gently, so you hardly even feel it. 'Til you fall dead."

4
4
"Lonelyhearts"
Michael Waxman
Alan DiFiore &
Dan E. Fesman
November 18, 2011
5.44
Synopsis: After investigating a strange cluster of female deaths and disappearances, Nick sends Monroe undercover to get a whiff of a hypnotic suspect. In the meantime, a stranger shows up looking to avenge the death of his friend at the hands of a Grimm, but he'll have to get past Captain Renard.

---

Quote: "There she paused for a while thinking... but the temptation was so great that she could not conquer it."

5
5
"Danse Macabre"
David Solomon
Jim Kouf &
David Greenwalt
December 8, 2011
4.09
Synopsis: Nick and Hank's investigation of a dead high school teacher leads them to the school's outcast, Roddy. Nick realizes that there's more to Roddy than meets the eye, and enlists Monroe's help to get through to the troubled teenager before he exacts revenge on the students who wronged him. Meanwhile, Nick learns that his presence is beginning to affect the creature world.

---

Quote: "Out they scampered from doors, windows and gutters, rats of every size, all after the piper."

6
6
"The Three Bad Wolves"
Clark Mathis
Naren Shankar &
Sarah Goldfinger
December 9, 2011
5.43
Synopsis: Nick is called to a suspected arson case, which exposes a longstanding family feud that brings Monroe face-to-face with characters from his troubled past. While Monroe wrestles with restraining his wild side, it's up to Nick to keep everything from going up in flames.

---

Quote: "Little pig, little pig, let me come in,' said the wolf to the pig. 'Not by the hair of my chinny chin chin,' said the pig to the wolf."

7
7
"Let Your Hair Down"
Holly Dale
Sarah Goldfinger &
Naren Shankar
December 16, 2011
5.16
Synopsis: A mysterious homicide deep in the woods leads to Nick and Hank reopening a long-aborted missing persons case. When Nick suspects this abducted person might be a feral creature, he asks Monroe to help remind this wild child of her human nature.

---

Quote: "The enchantress was so hard-hearted that she banished the poor girl to a wilderness where she had to live in a miserable, wretched state."

8
8
"Game Ogre"
Terrence O'Hara
Cameron Litvack &
Thania St. John
January 13, 2012
4.65
Synopsis: An escapee returns to Portland seeking revenge against those who put him behind bars. His unusual strength and high tolerance for pain makes Nick take notice. As the case escalates Nick and Juliette are put in danger, and Monroe is called into action to help put an end to the convict's deadly rampage.

---

Quote: "Fee fi fo fum... I smell the blood of an Englishman."

9
9
"Of Mouse and Man"
Omar Madha
Alan DiFiore &
Dan E. Fesman
January 20, 2012
5.92
Synopsis: While investigating a gruesome homicide, Nick learns that a seemingly mild-mannered resident could be festering a potential monster created from a dark childhood. Meanwhile, Monroe is sent an unsettling message by the creature community, who are beginning to wonder if his priorities lie with them or a Grimm.

---

Quote: "I am impelled not to squeak like a grateful and frightened mouse, but to roar...."

10
10
"Organ Grinder"
Clark Mathis
Akela Cooper &
Spiro Skentzos
February 3, 2012
4.79
Synopsis: As Portland's homeless youth start to go missing, Nick uncovers a deadly black market supplying the Grimm world with human organs for all types of elixirs. As the investigation heightens, Nick and Juliette befriend a pair of homeless siblings, Hanson and Gracie, whose friends have gone missing.

---

Quote: "We shall see the crumbs of bread... and they will show us our way home again."

11
11
"Tarantella"
Peter Werner
Alan DiFiore &
Dan E. Fesman
February 10, 2012
5.30
Synopsis: Nick and Hank find themselves on the hunt for a deadly heartbreaker leaving behind a web of dead bodies. Meanwhile, Nick's growing recognition among the creature world is starting to threaten not only his safety but Juliette's as well, and it may be time for him to take action to keep her safe.

---

Quote: "Instantly, the priestess changed into a monstrous goblin-spider and the warrior found himself caught fast in her web."

12
12
"Last Grimm Standing"
Michael Watkins
Teleplay by:
Naren Shankar &
Sarah Goldfinger
Story by:
Cameron Litvack &
Thania St. John
February 24, 2012
4.79
Synopsis: A bizarre double homicide leads Nick and Hank to a boxing gym, which Nick discovers is a supplier for a darker, ritualistic fight club in the creature world. When Monroe lends a hand and gets in over his head, Nick must dig deep and find his inner "Grimm" to defend him.

---

Quote: "The beasts were loosed into the arena, and among them, a beast of huge bulk and ferocious aspect. Then the slave was cast in."

13
13
"Three Coins in a Fuchsbau"
Norberto Barba
David Greenwalt &
Jim Kouf
March 2, 2012
5.30
Synopsis: A failed jewelry store robbery results in a murder that finds Nick and Hank immersed in a hunt for rare coins. Nick soon learns that these coins have an unsettling effect on whoever possesses them, as Hank and Captain Renard begin to exhibit unusual behavior. Meanwhile, a mysterious old friend of Aunt Marie's comes to Nick with information about his family and what led to his parent's death.

---

Quote: "For me there are neither locks nor bolts, whatsoever I desire is mine."

14
14
"Plumed Serpent"
Steven DePaul
Alan DiFiore &
Dan E. Fesman
March 9, 2012
5.05
Synopsis: While investigating an arson-related homicide with Hank, Nick finds himself in the heated world of Portland fire-dancing where he meets a woman who might just be too hot to handle. With Monroe's help, Nick will have to find out if he can investigate the case without getting himself or those close to him burned.

---

Quote: "Said the dragon, 'Many knights have left their lives here, I shall soon have an end for you, too,' and he breathed fire out of seven jaws."

15
15
"Island of Dreams"
Rob Bailey
Jim Kouf &
David Greenwalt
March 30, 2012
4.15
Synopsis: After the grisly murder of a familiar shop owner, Nick joins forces with Monroe to help solve the murder. When the shop owner's sister, Rosalee, comes to town, Nick thinks he may have found a new ally in the creature world. Elsewhere, Captain Renard enlists Adalind to cast a spell on Hank. Meanwhile, Sgt. Wu unwittingly becomes entangled in Adalind's dastardly plan.

---

Quote: "Soon he was so in love with the witch's daughter that he could think of nothing else. He lived by the light of her eyes and gladly did whatever she asked."

16
16
"The Thing with Feathers"
Darnell Martin
Richard Hatem
April 6, 2012
4.45
Synopsis: Nick pulls out all the stops to plan a romantic getaway for Juliette in an attempt to get their relationship back on track. Nick's duties as a Grimm get in the way of romance when he meets the unsettling neighbors and discovers that the troubled wife has a rare and valuable treasure to protect. It's left to Nick to keep everyone safe. Back in Portland, Hank and Monroe each find themselves on the brink of new romantic relationships.

---

Quote: "Sing my precious little golden bird, sing! I have hung my golden slipper around your neck."

17
17
"Love Sick"
David Solomon
Catherine Butterfield
April 13, 2012
4.96
Synopsis: Nick and Juliette join Hank for dinner, where Nick discovers Hank's mystery date is none other than Adalind, the same Hexenbiest who tried to kill Aunt Marie. Meanwhile, Captain Renard takes matters into his own hands when a visit from foreign representatives of his royal bloodline threatens his position. Elsewhere, Monroe and Rosalee are called into action when the lives of Hank and Sgt. Wu hang in the balance.

---

Quote: "Forgive me for the evil I have done you; my mother drove me to it; it was done against my will."

18
18
"Cat and Mouse"
Felix Alcala
Jose Molina
April 20, 2012
4.56
Synopsis: While investigating a string of murders, Nick and Hank learn that their suspect's crime wave began overseas. When Nick discovers the suspect is being harbored by none other than Monroe and Rosalee, he realizes he's hunting the hunted, a freedom fighter trying desperately to escape the clutches of a creature bounty hunter.

---

Quote: "'Perhaps some accident has befallen him,' said the king, and the next day he sent out two more huntsmen who were to search for him."

19
19
"Leave It to Beavers"
Holly Dale
Nevin Densham
April 27, 2012
4.33
Synopsis: As Nick delves into the trailer's weapons cabinet and his inner Grimm, the investigation of a dead construction worker leads him into a long standing conflict in the creature world. Sensing an unfamiliar threat, the suspect takes it upon himself to summon Reapers to town to eliminate the Grimm once and for all. Meanwhile, Juliette insists that Nick invite Monroe over for dinner, making for quite the interesting evening.

---

Quote: "'Wait!' the troll said, jumping in front of him. 'This is my toll bridge. You have to pay a penny to cross.'"

20
20
"Happily Ever Aftermath"
Terrence O'Hara
David Greenwalt &
Jim Kouf
May 4, 2012
4.73
Synopsis: Nick and Hank are called to investigate the mysterious death of a wealthy matriarch, after her stepdaughter loses everything in a Ponzi scheme. Meanwhile, Juliette does some digging into the mysterious death of Nick's parents in an effort to help him find closure.

---

Quote: "And they lived happily ever after."

21
21
"Big Feet"
Omar Madha
Teleplay by:
Richard Hatem
Story by:
Alan DiFiore &
Dan E. Fesman
May 11, 2012
4.45
Synopsis: After Juliette stumbles upon a brutal murder, Nick learns the suspected creature, and friend of Monroe, is suffering from a mysterious condition -- the inability to completely return to human form. This mysterious condition leads them to a therapist who's created an artificial drug to suppress the creature side, with horrifying side effects. Meanwhile, the investigation takes a surprising turn when Hank sees something he can't quite explain.

---

Quote: "He stripped off his skin and tossed it into the fire and he was in human form again."

22
22
"Woman in Black"
Norberto Barba
David Greenwalt &
Jim Kouf
May 18, 2012
5.10
Synopsis: As Nick delves deeper into his life as a Grimm, a trail of grotesque murders reignites the search for the elusive gold coins. The arrival of a mysterious woman in black begins to get in the way of Nick and Hank's investigation as extra precautions have to be taken to ensure their safety. Meanwhile, Nick's ability to keep his true nature secret from Juliette comes to a tipping point.

---

Quote: "It shall not be death, but a sleep of a hundred years, into which the princess shall fall."
Images
Episode Promotional Images
Videos
Gag Reel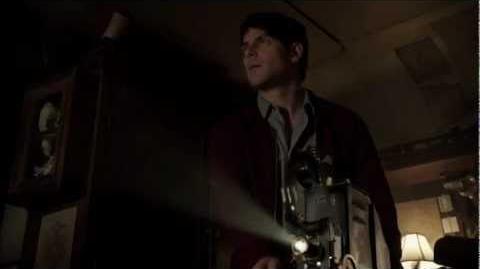 DVD/Blu-ray Release
Main article: Grimm: Season One
Season 1 was released on August 7, 2012 on DVD and Blu-ray. Both have 5 discs featuring all 22 episodes.
Set Details
Special Features

22 Episodes
5-Disc Set
Language: English (Dolby Digital 5.1), French (Dolby Digital 5.1), Spanish (Dolby Digital 5.1)

(Blu-ray) English (DTS-HD Master Audio 5.1)

Subtitles: English

Deleted Scenes
Gag Reel
World of Grimm: Get to know the characters and creatures that inhabit the world of "Grimm" and discover the inspiration behind the storylines.
Making Monsters: Go behind the scenes with Andy Clement and Barney Burman as they take viewers through the special makeup effects design and application process. The talented team from Hive FX also shows fans how they give life to the monsters of "Grimm."
(Blu-ray Only) Grimm Guide: An interactive book that provides insight into the various creatures featured in the show.
and MORE
Boxart/Contents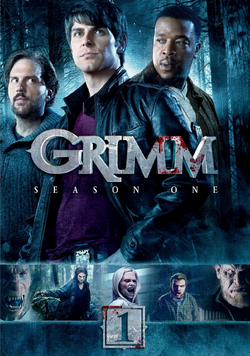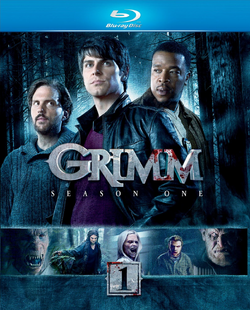 See Also