Wiki Targeted (Entertainment)
Play Sound
Khepri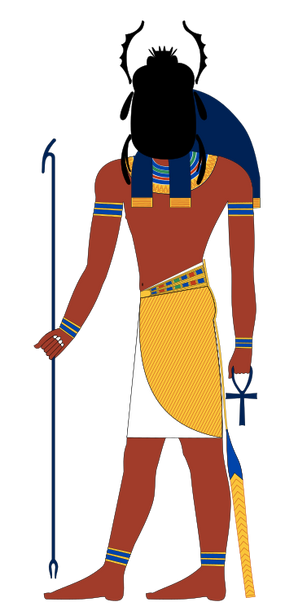 A Khepri (KHEP-ree; Anc. Egypt. "creator") is a beetle-like Wesen first mentioned in "Once We Were Gods". Traditionally, the Khepri is depicted in art as having a large scarab or dung beetle in place of its head. During the Ancient Egyptian Empire, Khepri were worshiped as the god of rebirth and the sunrise.
Unseen Wesen in Grimm
Afrotherian Wesen
Bhari Kadama
Amphibian Wesen
Fossegrim
Avian Wesen
Augapfel-Aushacken
Bovine Wesen
Mordstier
Canine Wesen
Lob Hombre, Volkodlak
Chimeric Wesen
Ammit, Empousai
Chondrichthyan Wesen
Ak-Moho-Alii
Decapod Wesen
Karkinos
Feliform Wesen
Abartige Aasfresser, Bastet
Feline Wesen
Ukufu Okusheshayo
Hexapod Wesen
Khepri, Sairento Shi
Lupine Wesen
Grauhund
Meline Wesen
Rotznasig Carcaju
Mephitid Wesen
Faeteo fatalis
Monotreme Wesen
Shnabeltiermörder
Pantherine Wesen
Rißfleisch, Tefnut
Perissodactyl Wesen
Abath
Primate Wesen
Amarok, Handwerksburschen
Procyonid Wesen
Waschbar
Pseudosuchian Wesen
Trasque
Rodent Wesen
Schmerzen-Kaninchen
Ruminant Wesen
Spokelseshorn
Unknown Wesen
Curupira, Fétide Taillader, Gefrierengeber, Leshy, Peau de la Mort, Sangrienta Manos, Schneetmacher, Waage
Community content is available under
CC-BY-SA
unless otherwise noted.