A Heftigauroch (HEFF-tigh-ow-rohkh; Ger. Heftig "violently" or "severe" + "Aurochs") is a bull-like Wesen that appeared in "The Last Fight".
Characteristics
Edit
When they woge, Heftigaurochs appear similar to Taureus-Armenta. The main differences between them are the thinning of hair found on Heftigaurochs and a less impressive set of horns. Heftigaurochs have hard heads and strong hands, making them great fighters despite the fact that it is not in their nature to fight. Like many other Wesen, Heftigaurochs can focus their woge on just their eyes, which glow yellow. Heftigaurochs frequently woge their eyes when in a state of rage.
As a species, Heftigaurochs are very strong and are able to dent solid metal. Their hands are durable enough to repeatedly send out blows with no signs of pain or damage. Likewise, their bodies can take incredible amounts of punishment. Being repeatedly assaulted is a frequently used tactic to get them in a rage state fit to fight. After this assault, they show no signs of discomfort or damage.
It appears female Heftigaurochs are not as strong or durable as their male counterparts.
Heftigaurochs are normally laid-back and pacifistic. Heftigaurochs who find themselves caught up in violent sports such as boxing are borderline lackadaisical about it. When pushed beyond their limit, Heftigaurochs will become violent. Once they enter a rage, it takes some time to revert back to their normal personalities.
Heftigaurochs are wary of Grimms, but if they are in a rage state, they are not afraid to attack them.
A Heftigauroch is a bull-like Wesen that morphs into rage when provoked. Their hard heads and strong hands make them great fighters. However, despite their inherent ability, it is not in their nature to fight.
Season 4 Blu-ray Grimm Guide Profile
Edit
| | | |
| --- | --- | --- |
| " | A bull-like Wesen that morphs into rage when provoked. Their hard heads and strong hands make them great fighters, despite the fact that it is not in their nature to fight. | " |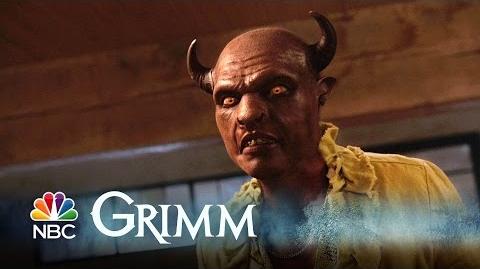 Wesen in Grimm
Accipitrid Wesen
Barbatus Ossifrage, Geier, Steinadler
Amphibian Wesen
Folterseele
Bovine Wesen
Fuilcré, Heftigauroch, Taureus-Armenta
Canine Wesen
Anubis, Apgadnieks, Blutbad, Coyotl, Höllentier, Hundjäger, Inugami, Luison, Schakal, Wældreór, Wildesheer
Caprine Wesen
Krampus, Seelengut, Ziegevolk
Cathartid Wesen
Raub-Kondor
Cetancodont Wesen
Taweret
Chelicerate Wesen
Spinnetod
Chelonian Wesen
Genio Innocuo
Chimeric Wesen
Manticore, Naiad, Wettbewerbsgewinner
Chiropteran Wesen
Murciélago
Dinosaur Wesen
Glühenvolk
Falconid Wesen
Uhranuti
Feline Wesen
Klaustreich, Weten Ogen
Hexapod Wesen
Ataktos Fuse, Gevatter Tod, Jinnamuru Xunte, Kackenkopf, Mellifer, Musasat Alsh-Shabab
Lagomorpha Wesen
Willahara
Lepidosauromorphan Wesen
Furis Rubian, Königschlange, Lausenschlange, Phansigar, Quijada Vil, Skalengeck, Varme Tyv, Wasser Zahne
Lutrine Wesen
Luisant-Pêcheur
Machairodontine Wesen
Mauvais Dentes
Meline Wesen
Drang-Zorn
Mustelid Wesen
Ungeziefer Greifer
Osteichthyan Wesen
Cracher-Mortel, Hasenfussige Schnecke, Matança Zumbido, Unnamed Red Herring-like Wesen
Pantherine Wesen
Balam, Löwen, Pflichttreue, Yaguaraté
Passeriform Wesen
Seltenvogel
Perissodactyl Wesen
Dickfellig, Nuckelavee
Primate Wesen
Alpe, Aswang, Cupiditas, El Cucuy, El Cuegle, Excandesco, Fuchsteufelwild, Hässlich, Hexenbiest, Indole Gentile, Koschie, Musai, Siegbarste, Wendigo, Wildermann, Zerstörer
Pseudosuchian Wesen
Gelumcaedus, Skalenzahne
Rodent Wesen
Eisbiber, Mauzhertz, Reinigen, Riesen-Ratte, Stangebär
Sauropsidans Wesen
Dämonfeuer
Spiralian Wesen
Gedächtnis Esser, Huntha Lami Muuaji, Lebensauger
Strigiform Wesen
Scharfblicke
Suinan Wesen
Bauerschwein, Malin Fatal, Schinderdiv
Ursid Wesen
Jägerbar
Vulpine Wesen
Fuchsbau, Kitsune, Vulpesmyrca
Community content is available under
CC-BY-SA
unless otherwise noted.