Sasha Roiz is at it again with his successful charity work. This time aiming to raise money for "Dress for Success Oregon" A charity organization aimed at providing appropriate and accessories clothing to women for interviews.
This time Sasha has an awesome t-t-shirt available for purchase with the proceeds going to charity.
The shirt is only available for 10 more days so grab is while you can if you are interested.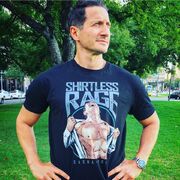 Disclaimer: I am personally not involved with the production of the products nor do I receive any of the proceed or promotional gains. All proceeds go to the charity mentioned.